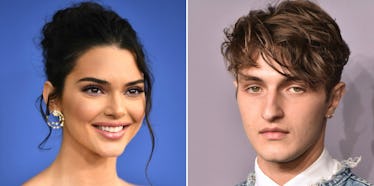 There's One Big Thing Standing In The Way Of Kendall Jenner & Anwar Hadid's Romance
Dimitrios Kambouris/Theo Wargo/Getty Images
I feel like there's a new rumor about Kendall Jenner's love life every week nowadays. Seriously, one week people say she's dating a basketball player, another week it's A$AP Rocky, and now it's Gigi and Bella Hadid's brother, Anwar Hadid. Yup, according to Entertainment Tonight, the two are a thing. A source close to the pair says their thing is "nothing serious," and there's a particular reason why Kendall Jenner and Anwar Hadid are taking things slow. Elite Daily reached out to Jenner and Hadid's teams for comment on the report, but did not hear back by the time of publication.
The source told Entertainment Tonight, "Anwar and Kendall are just having fun for now. Both of them recently got out of relationships, and don't want anything too serious." Fair enough. The source added that Hadid being the brother of two of Jenner's closest friends definitely complicates things (to absolutely no one's surprise). "Kendall is best friends with Anwar's sisters, Gigi and Bella, and she respects them tremendously," they said, adding,
Kendall would never want to do anything to put her relationship with Anwar's sisters in jeopardy. Kendall and Anwar have known each other for years and have always been flirtatious and this is just another sign of that. The two enjoy one another's company and things could change, but for now, it's nothing serious.
TMZ reported that Jenner and Hadid were seen showing PDA at a bar called Socialista New York in the early hours of June 5. They were reportedly at the bar as an afterparty for the CFDA Fashion Awards on Monday, June 4. Jenner attended the awards show as a show of support for her sister, Kim Kardashian, who was awarded the event's first-ever Influencer Award.
The source said Jenner and Hadid were clearly into each other while hanging out with friends at the bar. They were apparently seen cuddling, kissing, holding hands, the works, throughout the night. While it doesn't seem like they're officially in a relationship yet, they're definitely spending time together to see if there's anything more between them.
But Hadid isn't the only person Jenner is currently dating, according to the source. (We seriously need to determine what these sources mean when they say "dating." Are they in a relationship, or are they hanging out and getting to know each other? Color me confused.) The source said Jenner is still "casually dating" NBA player Ben Simmons. Page Six reported on May 29 that Jenner and Simmons have been spending time together, but it's not serious. Elite Daily reached out to Jenner and Simmons' teams for comment on this report at the time, but did not hear back by the time of publication.
A source told Page Six that Jenner and Simmons were seen at dinner with friends at an New York City restaurant called Vandal and were also seen hanging out at the Beverly Hills Hotel in Los Angeles. During their stay in NYC, a source told Page Six, "Security measures seemed to have been taken to ensure Kendall and Ben enjoyed their night hassle free. They were smiling the night away with their friends."
It looks like Kendall Jenner is keeping her options open by going on a bunch of dates to figure out what she's really looking for. Previously, she reportedly dated rapper A$AP Rocky and NBA player Blake Griffin. It's not clear when they broke up/if that's the relationship the source was referring to when they said Jenner and Anwar both just got out of serious relationships.
One thing is for sure, though, and that's that while Jenner's sisters are busy having babies and being in serious relationships, she — being the only one of the Kardashian-Jenner children not to have kids of her own (not that she needs to rush or have any at all) — is basically like, "LOL, nah." Respect, Kendall. Respect.