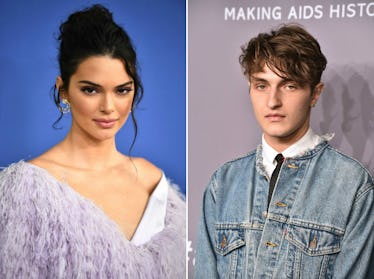 Kendall Jenner Might Be Dating Gigi Hadid's Little Brother, So Prepare To Be Shook
Dimitrios Kambouris/Getty Images Entertainment/Getty Images | Theo Wargo/Getty Images Entertainment/Getty Images
The world has long been wondering what exactly Kendall Jenner's dating situation is. Thanks to a new report from TMZ, everyone may have gotten their answer! Jenner was reportedly spotted kissing Gigi and Bella Hadid's little brother and everyone's losing their minds. Elite Daily reached out to Jenner and Hadid's teams for comment on the report, but did not hear back by the time of publication. So, are Kendall Jenner and Anwar Hadid dating? It's definitely possible!
The two were reportedly spotted getting cozy at the 2018 Council of Fashion Designers of America Awards after-party in New York City, according to TMZ. The CFDA Awards, which is basically the Oscars of fashion, brings the international fashion community together each year. So, it makes total sense that Jenner and Hadid would both be in attendance. They're both models, after all. Plus, Hadid comes from an entire family of fashionistas. His big sisters are Gigi and Bella Hadid (ever heard of them?). So, of course, he'd be at the awards celebration and after-party.
Jenner and Hadid were reportedly involved in a hot and heavy makeout session in the early morning hours of Tuesday, June 5. According to TMZ's report, the pair was spotted at Socialista New York, allegedly doing all the things normal couples probably do: kissing, cuddling, holding hands, you name it!
So, basically, they were on a date. Which doesn't necessarily mean they're dating. Jenner, 22, has been playing the field as of late. Or so it seems. She was spotted with NBA player Ben Simmons just days ago. The two have been out and about recently. They've gone on double dates. They've spent time at hotels together. They've done all the cute things you'd expect a budding couple to do. Elite Daily reached out to Jenner and Simmons' teams for comment on the dating rumors, but did not hear back by the time of publication. Anyway, it seems like Jenner may have her eyes and heart on something else.
Because now she's locking lips with Gigi and Bella Hadid's baby brother (who is 18, by the way).
In spite of all the rumors that could possibly swirl regarding her and Hadid, Jenner actually made a bold move and posted a snapshot of Hadid's hands on her Instagram story:
So, what's the deal here? There's so much going on and it's honestly so hard to keep up. What does anyone know about Anwar Hadid, anyway?
Well, lucky for you, I did some digging and he's actually got a pretty interesting history. Even though he's still a teenager, he's accomplished quite a lot for his short time on earth so far.
He was signed to IMG Models back in 2016 when he was just 16 years old. Since then, he's walked a slew of runways and done a bunch of professional shoots. So, he's right up Jenner's alley in terms of career goals. A couple that slays together... stays together? I don't know.
In any case, his dating history isn't as interesting. He had been dating Nicola Peltz since December 2016, but the pair no longer follow each other on Instagram, which may be an indicator that they've split. There's been no official announcement yet about the state of the Hadid-Peltz relationship, so the world will have to settle for Instagram clues.
Either way, the apparently ill-fated relationship with Peltz leaves Hadid open for starting something romantic with Jenner — if that's what the supermodel pair are going for, I mean.
According to TMZ, an eyewitness saw Jenner head back to her hotel all alone at around 4 a.m after spending some time canoodling with Hadid. So, this wasn't some all-nighter for the cute new couple, though it does seem like they spent most of the night together. Seems like a date to me! But what do I know? Hollywood has its own rules. Jenner may just be having fun and living her best life, and kissin' multiple boys. And I say, GO KENDALL.
Whatever's going on between them, this is one story that's going to be interesting to follow!