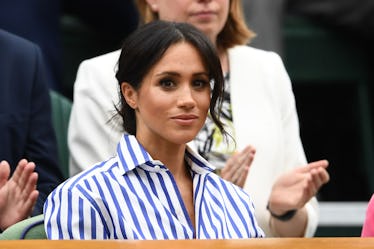 The Reason Meghan Markle Reportedly "Lives In Fear" Of Reconnecting With Her Dad Is So, So Sad
Clive Mason/Getty Images Sport/Getty Images
It's not exactly a secret that Meghan Markle and her father, Thomas Markle, have had a rocky relationship over the years. Their complicated history with each other was seemingly strained even further when he infamously bowed out of Markle's wedding to Prince Harry back in May and kept taking money for interviews to speak about the royal couple. Sadly, his tendencies to repeatedly share details about the Duchess of Sussex's life is the reason Meghan Markle reportedly "lives in fear" of reconnecting with her dad.
Although Markle "cares" about her father, a source close to the royal claimed to Us Weekly on July 20 that their relationship might be "irreparable" because she's reportedly worried Thomas won't be able to keep his mouth shut if they'd happen to reconnect.
"Meghan is so upset over Thomas. She's upset for a couple of reasons. She doesn't even know how to communicate with her dad without knowing he won't exploit her," the insider explained. "She lives in fear that he'll leak their communication. If he's spoken this much already, why wouldn't he leak their conversation?"
Unfortunately, the trust might not be able to be rebuilt. The source continued:
She would like to speak to him, but there is no trust there anymore. And it doesn't seem like it could ever be rebuilt. The damage is done. First, he faked this weird heart attack, which he hasn't admitted was fake, and now he's doing all these interviews. She has no other choice but to ignore him.
Elite Daily reached out to Kensington Palace for comment on the report, but did not hear back by the time of publication.
As you may recall, Thomas Markle has taken a liking to the press amid his daughter's newfound global fame. Back in May, he was spotted exploring Britain and preparing for his daughter's royal wedding in what turned out to be staged photos that Thomas had organized with the paparazzi for some extra pocket money. Amid the backlash, he claimed he had to drop out of the royal wedding to undergo heart surgery — which sources close to the Duchess of Sussex claim was a lie so he could skip the ceremony. (Elite Daily previously reached out to Kensington Palace regarding these claims, but had yet to hear back at the time of publication.)
Additionally, Thomas reportedly pocketed $10,000 for an interview with ITV's Good Morning Britain the following month, in which he disclosed private details about Markle and Prince Harry's plans to have children. Needless to say, the royal couple was reportedly super frustrated and decided to keep their distance from him, though they have not provided official comment from the newlyweds in response.
However, Thomas has made it pretty clear that he doesn't intend on keeping quiet — at least until he's able to be fully involved in the lives of the royal family. On July 17, he told TMZ:
I was silent for a full year and the press beat me up every day saying I was a hermit hiding in Mexico, so I gave my story. Apparently that interview put the Royal Family in their silence mode ... so, I gave another interview to break the silence. All they have to do is speak to me.
The family drama doesn't appear to be ending any time soon, but hopefully Thomas can learn to respect his daughter's privacy and then maybe they'll get back to where they need to be.