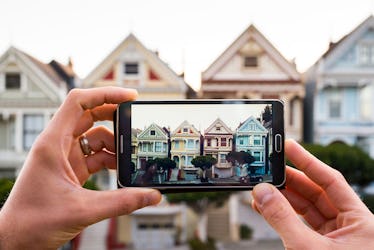 The Most Colorful Places In The U.S. Will Bring All The Pastel Vibes To Your IG
This summer, spice up your feed with gorgeous hues of color in some of the hottest destinations across the United States. Whether it's the beach pastels or the bright pops of art deco, there are just never enough captivating colors when it comes to snapping pics for the 'Gram. From the quaint city of Charleston, South Carolina, to the outskirts of Oahu, Hawaii, there are plenty of amazing options to explore. Here's a list of the most colorful places in the United States for your viewing pleasure.
All of these locations are relatively easy to get to and have a culture that is truly their own. The color and vibrance of the towns mimic the life that each unique place breathes every single day. These bright destinations also offer an endless amount of creative freedom, from the colorful blocks and plants to the cars and quaint shops. Grab an ice cream, ride a bike, or go for a swim before striking a pose, and you will see that the photos really speak for themselves. Whether you are snapping pictures of these incredibly photogenic spots or are just soaking up the beauty of the moment visually, you are sure to fall in love with these seven magically colorful cities.