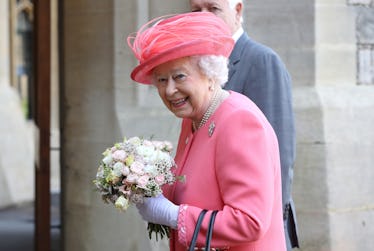 The Queen's Reaction To Kate Middleton & Prince William's Third Baby Is So Perfect
Chris Jackson/Getty Images Entertainment/Getty Images
The littlest prince is here! Prince William and Kate Middleton's third child was born on Monday, April 23, a son who weighs eight pounds and seven ounces. Just like his siblings, his father, and his uncle, he was born in St. Mary's Hospital in London. Kensington Palace announced his arrival in a tweet that same day. Both mother and baby are in good health.
While William was present for the birth, according to a tweet by Kensington Palace, Queen Elizabeth II wasn't there at the hospital. However, on Monday at 8:03 a.m. EST, the palace tweeted that, "The Queen, The Duke of Edinburgh, The Prince of Wales, The Duchess of Cornwall, Prince Harry and members of both families have been informed and are delighted with the news."
This is a very momentous week for the royal family: In addition to the birth of the baby on a religious holiday called St. George's Day, the queen also turned 92 years old on Saturday, April 21. Sadly, on Sunday, April 15, the queen lost the last descendant of her original beloved corgi when her 14-year-old dog Willow was put down at Windsor Castle, following a battle with cancer. The queen received her first corgi, Susan, on her 18th birthday in 1944. But in sunnier news, you know, the entire world is sort of waiting with bated breath for Prince Harry and Meghan Markle to tie the knot on Saturday, May 19. (Hey, Americans — who's waking up early to watch the wedding? I'm making pancakes.) So, like I said, a momentous week.
Kensington Palace announced the birth on Twitter.
Her Royal Highness The Duchess of Cambridge was safely delivered of a son at 1101hrs. The baby weighs 8 lbs 7 oz. The Duke of Cambridge was present for the birth. Her Royal Highness and her child are both doing well.
A flag was also raised over Buckingham Palace to mark the occasion.
The queen has eight grandchildren, and as of now, six great-grandchildren. In order from oldest to youngest, they are: Savannah Phillips, Isla Phillips, Prince George, Mia Tindall, Princess Charlotte, and now the youngest royal baby. Her granddaughter Zara Tindall (Mia's mom) is expected to give birth in July. And, of course, Harry and Meghan have been open about the fact that they want children of their own pretty soon.
Royal expert Katie Nicholl, who is the author of Harry: Life, Loss, and Love, told ET that Prince Harry wants to start having kids with Meghan soon after their wedding on May 19. "My sources are saying that Prince Harry, particularly, is very keen to start a family, pretty soon after the royal wedding," Nicholl explained. "He's made no secret about wanting children."
Why the tight timeline? Well, apparently, it's because Harry has loved watching his brother William build his family with Kate. "I think that moment [for Harry] really kicked in when his brother, Prince William, of course, settled down with Kate Middleton," Nicholl said. "That has definitely gotten Prince Harry pretty broody." (Are you swooning yet?)
The newest royal baby is now the fifth in line to the throne, behind his grandfather, Prince Charles, his father, Prince William, and his two siblings, Prince George and Princess Charlotte. Yep, Charlotte comes before her little brother in the line for the throne because of the Succession of the Crown Act 2013, which says that the line of succession be based on order of birth and not gender.
Kate and William's baby's arrival is wonderful news — especially for the queen, who might understandably be feeling pretty blue after the loss of her dog just eight days prior. Tiny, plump cheeks have a way of making almost everyone feel better.