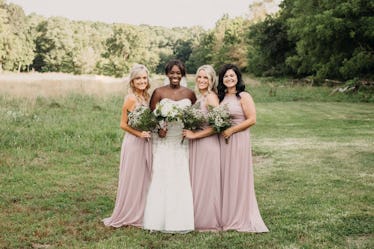 7 People Share The Most Unexpected Part Of Their Wedding & You'll Scream
Did your wedding come with a shock? With all the moving parts that have to fit into place, it's hard to believe a wedding ever wouldn't have a huge surprise in it. I mean, if a child can successfully carry a ring on a pillow down an aisle, that's unexpected enough for me. You might be wondering what's the most unexpected part of weddings, so I asked seven people to share their stories with me. Surprises can be anywhere, from the guest list to the DJ to the venue, and there's no shortage of fantastic wedding stories.
The best wedding I ever went to included the bride and groom singing their vows to each other. I thought it was so beautiful, and it was certainly unexpected. Moments that make a wedding unique are also the moments that make it special — these two people love each other, and they gave the wedding their own creative take. Even if the unexpected moments aren't planned, it still reflects how every romance takes its own twists and turns. In fact, in my opinion, there's nothing more exciting than a wedding that doesn't go according to plan (although a wedding planner might feel differently).
Read on to find seven stories of the most unexpected part of different people's weddings.