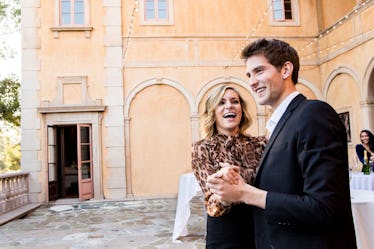 Here's How To Flirt With Someone At A Wedding, So Shoot Your Shot
How many weddings are you attending this summer? Chances are, you have a few lined up on your calendar. If you're single, there's no need to feel bummed out about going to a wedding without a plus one. Weddings make for the perfect opportunity to meet someone and kickstart a new romance. However, if you're going to take full advantage of the open bar and everything the singles' table has to offer, it's probably a good idea to brush up on how to flirt with someone at a wedding. Let's be honest: It's not always easy to flirt and approach people IRL.
To help brush up on these skills, I reached out to Connell Barrett, Dating Transformation founder and executive dating coach, for his expert advice on making the most of the wedding season. According to Barrett, weddings do, in fact, make for a great place to meet other singles, and he offers his suggestions on how to go about getting your post-nuptial flirt on. Here's how he suggests taking advantage of the unique opportunity that weddings create for flirting — and what you may want to avoid doing in order to make the most of your time at the singles' table.