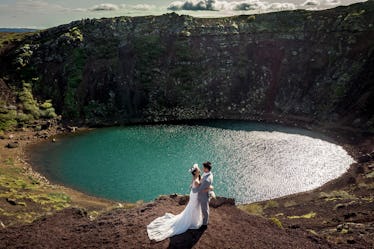 8 Wedding Planners Shared Photos Of Their Most Elaborate Weddings & Your Jaw Will Drop
Iceland Wedding Photo
What do the actors on Game of Thrones and some wedding planners have in common? Their jobs have taken them on location to Iceland, of all places. That's right, some of the following photos of over-the-top weddings take place in the gorgeous, colorful terrain of Iceland's black sand beaches, waterfalls, and glacial mountain regions. In honor of wedding season unfurling faster than anyone can find enough cute outfits to wear to them, I asked wedding planners to share about the most elaborate weddings they've ever worked on.
"I have worked on weddings at churches, family homes, special venues, the coast of Jamaica, in both intimate and casual settings and 'Elaborate' is a different definition for everyone — for me, it is when there are most moving parts, and all of them have to be perfectly planned, timed and executed," says Andi Jo Clark, owner, and CEO of Simply Sparrow wedding planning. A wedding can be elaborate in numerous ways, and it's always about the details.
Adventure weddings are often characterized by a smaller number of guests and a couple that wants to prioritize an experiential celebration. "Planning adventure weddings in a tiny island in the North Atlantic can be challenging, but we freaking love it! This is especially true for our team since our weddings involve exploring remote locations via super jeep," says Iceland Wedding Planner, Ann Peters. "Rather than visiting the usual tourist spots, it's our team's mission to take people off the beaten path and show them the real Iceland, and the hidden gems that most never get to see."
For more behind the scenes details from wedding planners, check out the following couples' adventurous big days.