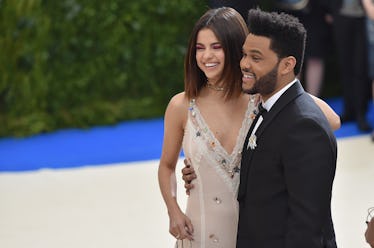 Beyoncé & Selena Gomez Dominated The Most Liked Instagrams Of 2017
Theo Wargo/Getty Images Entertainment/Getty Images
The end of the year marks the perfect opportunity to look back at two types of events: all the crazy stuff that happened in 2017 and all the fun stuff that did, too. Fortunately for you, this post won't take you back to any of the former. Instead, let's go through some of the latter with a look back at the most liked Instagrams of 2017.
Much like the year's list of top tweets, it's all worth a second look. Unlike the top tweets list, though — which was dominated by former President Barack Obama — this particular list was dominated by three people: Beyoncé, Selena Gomez, and soccer superstar Cristiano Ronaldo.
So, let's take this trip down memory lane and look back at events that feel like they happened five years ago but literally just happened in the last 12 months... shall we?
Beyoncé's Pregnancy — 11.2 Million Likes
The internet was buzzing back in February when Queen Bey dropped the news that she was pregnant (with twins!) on Instagram.
Beyoncé, who boasts 109 million followers on IG, wrote a caption for the photo on behalf of herself and husband JAY-Z: "We would like to share our love and happiness. We have been blessed two times over. We are incredibly grateful that our family will be growing by two, and we thank you for your well wishes. - The Carters."
Ronaldo's Fourth Child — 11.2 Million Likes
Following a close second behind Beyoncé's pregnancy was a picture marking the birth of Ronaldo's youngest child. The Portuguese soccer star posted the photo in November showing him and his eldest child, Cristiano Jr., in scrubs. Meanwhile, his girlfriend, Georgina Rodríguez, held their newborn daughter. The caption of the photo revealed the new baby girl's name: Alana Martina.
Selena Gomez's Kidney Transplant — 10.4 Million Likes
Gomez shared this very candid photo in September of her holding hands with friend Francia Riasa, who donated a kidney to the singer. Gomez has had a well-documented battle with Lupus.
In a long, heartfelt caption, Gomez wrote "there aren't words to describe how I can possibly thank my beautiful friend Francia Raisa. She gave me the ultimate gift and sacrifice by donating her kidney to me. I am incredibly blessed. I love you so much sis. Lupus continues to be very misunderstood but progress is being made."
The Carter Twins' IG Debut — 10.28 Million Likes
Exactly a month after Beyoncé and JAY-Z's twins were born, the superstar singer introduced her newborn children in a photo that matched the aesthetic of her pregnancy announcement.
The picture, posted in July, also revealed the twins' names, with the caption reading, "Sir Carter and Rumi 1 month today."
Ronaldo's Twins — 8.26 Million Likes
In June, while his was resting during his off-season, Ronaldo introduced the world to his newborn twins, who were carried by a surrogate. "So happy to be able to hold the two new loves of my life," the 32-year-old player wrote in his caption.
A Weeknd At Coachella — 8.15 Million Likes
No caption needed. In April, Gomez shared this picture of herself and The Weeknd — her boyfriend at the time — while they visited California's Coachella festival.
A Date At The Met — 7.78 Million Likes
Two weeks after sharing a photo of herself and The Weeknd at Coachella, Gomez posted yet another photo of the then-couple, this time at the annual Met Gala in New York.
Like her previous pic, Gomez posted the hand-in-hand photo without a caption.
The Ronaldo Family — 7.28 Million Likes
Two months after introducing the world to his twins, Ronaldo graced the 'Gram with a picture of his girlfriend, twins, and eldest child with a simple caption — "family mood" — and a few heart emojis to boot.
At the time, Ronaldo's youngest daughter was not yet born.
Selena Gomez For Vogue — 7.12 Million Likes
In March, Gomez shared this photo, which was taken as part of her first cover shoot for Vogue magazine. For the cover story of that issue, she discussed her relationship with The Weeknd and mental health.
Happy Birthday Selena — 7.07 Million Likes
Last on the list of the year's top 10 is this photo, shared by Gomez in July as she celebrated her 25th birthday. "Thank you for all of my bday love," she wrote. "I couldn't be more blessed. A lot of you don't realize how much you mean to me. I. Love. You. --think 25 is going to be epic."