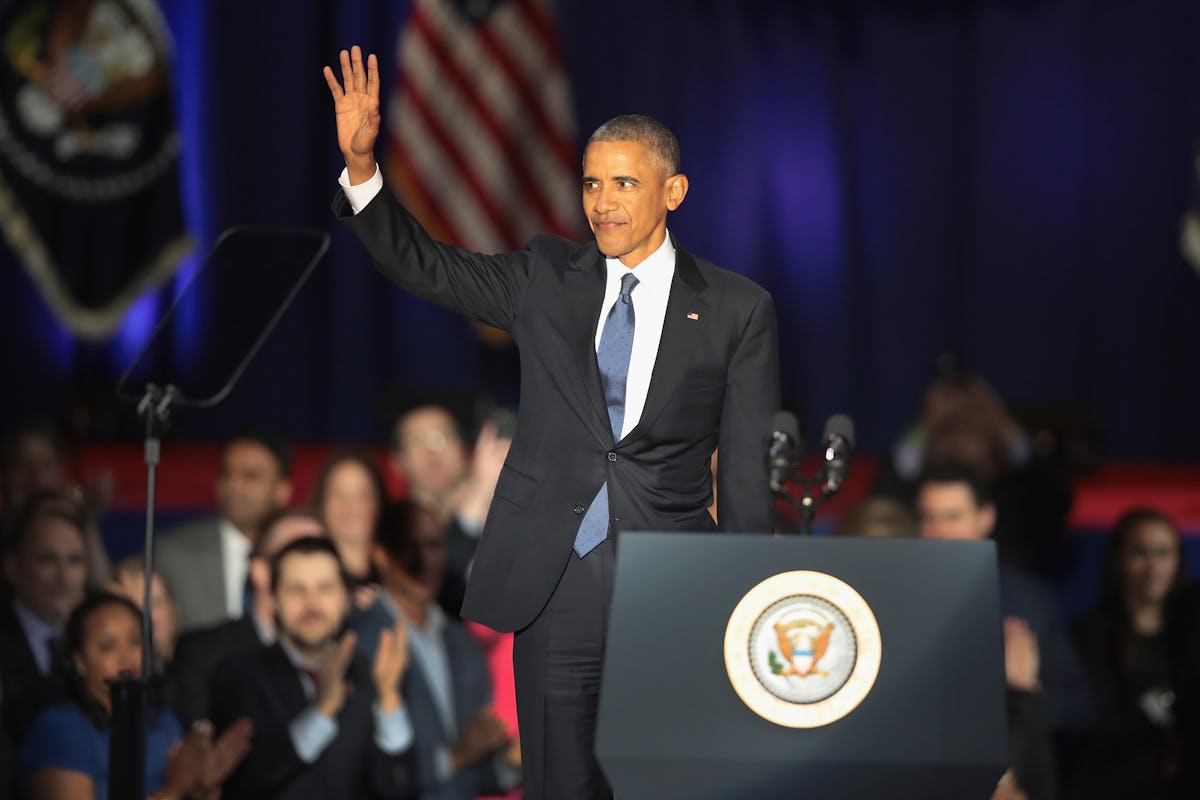 Trump Didn't Make Twitter's Most Popular Tweets Of 2017, But Obama Definitely Did
Scott Olson/Getty Images News/Getty Images
President Donald Trump's tweets may regularly make headline news, but they haven't ranked among Twitter's most popular posts for the year. While the list of Twitter's most popular tweets of 2017 doesn't include Trump, it does include tweets from his predecessor, former President Barack Obama. In fact, Obama made the list of Twitter's top 10 most retweeted posts of 2017 three times.
Which Obama Tweets Made The List?
The most popular of those three tweets came in August, when the 44th president of the United States wrote, "No one is born hating another person because of the color of his skin or his background or his religion..."
The words Obama shared on that day were quoting Nelson Mandela's 1994 biography, Long Walk To Freedom. At the time Obama posted the tweet, a white supremacist rally in Charlottesville, Virginia — which resulted in the death of a counter protester — had been dominating the news landscape. The rally's presence among news headlines was only lengthened after President Trump's first official comments on the protest didn't feature an exclusive condemnation of the white supremacists.
"We condemn in the strongest possible terms this egregious display of hatred, bigotry and violence on many sides — on many sides," Trump said at the time. He later added, "It's been going on for a long time in our country. Not Donald Trump, not Barack Obama. This has been going on for a long, long time."
Obama's tweet would eventually become Twitter's most "liked" ever and was contrasted with President Trump's comments on the Charlottesville protest.
This Aug. 12 tweet ranked second overall on the 2017 list of top 10 most retweeted posts.
Ranking fifth was another tweet from former President Obama, which was sent during the final days of his presidency. The tweet, sent in January, read, "Thank you for everything. My last ask is the same as my first. I'm asking you to believe—not in my ability to create change, but in yours."
The tweet was sent on the night of Obama's farewell speech in Chicago, and reiterated much of the focus of his address that night, which emphasized belief.
"I leave this stage tonight even more optimistic about this country than I was when we started," Obama said at the time, days before his presidency ended. "Because I know our work has not only helped so many Americans. It has inspired so many Americans — especially so many young people out there — to believe you can make a difference."
When Obama's presidency came to an actual close, another tweet of his was "liked" more than 1.5 million times. On the day of President Trump's inauguration, the tweet read, "It's been the honor of my life to serve you. You made me a better leader and a better man."
The tweet from Trump's inauguration day ranks eighth overall among the top 10 most retweeted of the year.
What Ranked First?
While Obama had the most tweets on the list, he still fell short of the top spot. That distinction went to a man named Carter Wilkerson, otherwise known as the guy who made a deal with Wendy's Twitter account for a year's worth of chicken nuggets.
After Wilkerson asked Twitter for help reaching 18 million tweets, he received more than 3.5 million of them. Wilkerson, a high school student, fell short of his goal, of course, but Wendy's still gave him a gift card for the year's worth of nuggets he was asking. And, the company donated $100,000 to the Dave Thomas Foundation for Adoption, which is named after the founder of the fast food restaurant.
See? Some good things did happen in 2017.