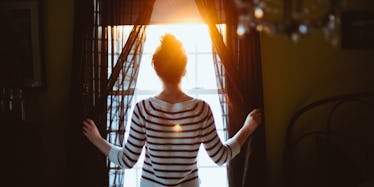 The Morning Ritual You Need To Try In 2018, According To Your Zodiac Sign
It can be difficult to make a new year's resolution truly stick, but an easy way to make it happen is to choose something relatively simple that means a lot to you. Cultivating a morning ritual, for example, is a super simple way to set a positive tone for the days to come in 2018. So much of your productivity and daily success depends on what you do first thing in the morning, and turning to astrology to give you insight into the morning ritual you need to try in 2018 will help center you, energize your body and mind, and it may even... turn you into a morning person? No promises, fam. No promises.
You might be thinking that morning rituals are nice in theory, but TBH, you're way too tired and cranky when your alarm goes off to actually stick to a soothing a.m. routine, no matter how amazing it makes you feel. However, the fact that Jupiter is in Scorpio this year means that each and everyone of us has been awarded a clean slate for 2018. There's no better time than now to seize the opportunity to be your best and most productive self.
If you're wondering how to get started with your 2018 morning ritual, your zodiac sign is here, as always, to guide you in the right direction. Here's how you can make the most of your mornings in 2018, according to your zodiac sign.