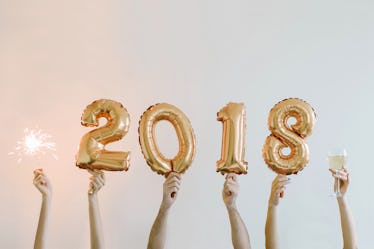 Jupiter Is In Scorpio Right Now & It Could Totally Change How Your New Year Begins
Stocksy/ Duet Postscriptum
Every single year it's the same thing. "New Year, new me!" when really, it's a new year, same sh*t. But this year, the Jupiter in Scorpio transit of 2018 means your New Year's resolution could actually stick. Those who are especially in tune with the vibe of the collective will probably notice that there's something especially "new" about this year; that regardless of how grand or minimal your New Year's Eve plans were, there was something about the night that gave it the feeling of a decidedly blank slate. Why is that? I'm glad you asked. While some might say nothing really means anything and we're all just wandering the planet until we die, I think it's because Jupiter is in Scorpio.
Jupiter is the planet of expansion, luck, and higher purpose, and Scorpio is the sign of sex, death, debt, transformation, and rebirth. When their powers combine, it endows us humans with a greater-than-average ability to assimilate our past experiences and come out of them healed and self-actualized. It's only by losing our way that we're able to carve a new path for ourselves. It's through total confusion that we are able to find genuine clarity. And it's from that point you can get really creative about what you want and how you'll go about getting it, uninhibited by fear or self-consciousness.
Finding Faith
Jupiter has been in Scorpio since October 2017, and will stay there until November of this year, meaning we've already been in the midst of this transit. The transformative power of Scorpio has already been working to change our perception of faith, and of what that means. Before this transit, you might have thought faith meant believing things will work out in your favor. By now, you might be beginning to understand that faith is more blind than that. Having faith means believing things will work out, period. You can set an intention and let go of it without worrying how you might get there, and without rigidly grasping to what it needs to look like.
Transforming Our Beliefs
No matter where I am in my life, and no matter what happens, I have begun to see everything — yes, absolutely everything — that happens "to me" is actually a result of my beliefs. They are beliefs that are formed in my subconscious mind. Jupiter in Scorpio encourages us to examine (Scorpio) what beliefs (Jupiter) lie in our psychological underworld. We need to dig down, bring them up, and shine a light on those beliefs in order to ask ourselves, does this really represent our feelings?
For instance, if we want to make money doing what we love most, but we are aware of the belief (built off the childhood example of parental figures) that "adults hate their jobs," then we are doomed to consistently stay stuck in a career that is almost what we want. Every step toward doing what we love most is sacrificed in service to the belief that hating your job is the more "responsible" choice.
Breaking Past Barriers
Another way this transit will affect people is by expanding their horizons in ways they never knew they could. Scorpio is a sign of hidden strength, and Jupiter is a planet that is about growing and expanding past any perceived limitations, either within us or around us. What others expect from you is no longer something you consider your concern. What others want from you is no longer your responsibility. As this transit makes it's way through your life, you will learn to set your own desires ahead of the desires others might have for you. You'll learn that when you set aside the expectations of others, you quickly surpass the expectations you held for yourself.