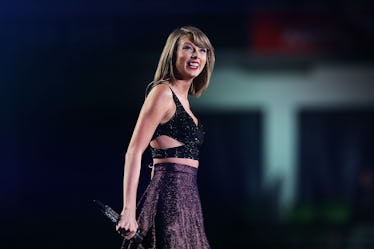 Taylor Swift's "King Of My Heart" Will Make You So Jealous Of Her Current Relationship
Graham Denholm/Getty Images Entertainment/Getty Images
It's officially the day Taylor Swift fans have been waiting for since 2014. Taylor Swift's sixth studio album, Reputation, dropped late on Nov. 9 and it's one of the highest anticipated releases of the year. The singer's love life is taking center stage on the album, obviously. But Reputation is definitely not your typical breakup album. The girl's finally in a good place — and the meaning of Taylor Swift's "King Of My Heart" will give you serious relationship FOMO.
After years of very public relationships followed by very, very public break-ups, it seems like Taylor Swift has finally found her perfect match in 26-year-old British actor Joe Alwyn. The two have reportedly been dating for about a year and it seems like the biggest difference about this romance is that the public knows virtually nothing about it. We barely even have pictures of them together, which makes the release of Reputation all the more exciting. After all the waiting, it seems like T. Swift fans are finally getting a peek inside the super secretive relationship, as it's pretty clearly about how happy she is.
So many of the songs on Reputation are speculated to be about Alwyn — from "New Years Day," to "Getaway Car," to "Call It What You Want." The tenth track, "King Of My Heart" is another one that we can definitely add to that group, and the lyrics are as cute as you could imagine.
"King Of My Heart" gives us a little bit of insight into the state of mind Swift was in when she met her current beau in the first verse:
I'm perfectly fine, I live on my own / I made up my mind, I'm better off bein' alone / We met a few weeks ago / Now you try on callin' me Baby, like tryin' on clothes
It seems like Taylor Swift flat-out gave up on finding a romantic partner that would stick. And who could blame her for feeling that way, following her whirlwind of a relationship with Tom Hiddleston. The very public breakup and public backlash that Swift and Hiddleston both received would discourage just about anyone from the hope of one day finding true love.
But something looks like it's gone right for Taylor Swift now — and it's unlike any relationship she's been in before. In the bridge Swift sings:
'Cause all the boys and their expensive cars / With their Range Rovers and their Jaguars / Never took me quite where you do
OK, Taylor. I like what I'm hearing so far. What else ya got? Tell me more about this prince charming. Give me the chorus!
And all at once, you are the one I have been waiting for / King of my heart, body and soul, ooh whoa / And all at once, you're all I want I'll never let you go / King of my heart, body and soul, ooh whoa
So this is pretty serious, people. Taylor Swift is in love and loving life after all these years of pain and heartbreak, matched with unparalleled public scrutiny. And it seems like Swift has learned that keeping relationships private is for the better. In the second verse she sings:
Late in the night, the city's asleep / Your love is a secret I'm hoping, dreaming, dying to keep / Change my priorities / The taste of your lips is my idea of luxury
Yes, Taylor. Keep that love of yours private and protect it with all your heart. The girl is finally catching a break and I, for one, could not be happier. The last thing the world needs is another annoyingly public celebrity relationship taking over the tabloids. And I think Swift knows that now, too.
A Taylor Swift album wouldn't be a Taylor Swift album without at least one breakup song, so I'm expecting to find one on Reputation — but how seriously refreshing is it to hear that for the most part, her album is filled with songs about a kind of love she's never experienced before? And whether you're a fan of Swift or not, the existence of true love is something we can all rally behind.