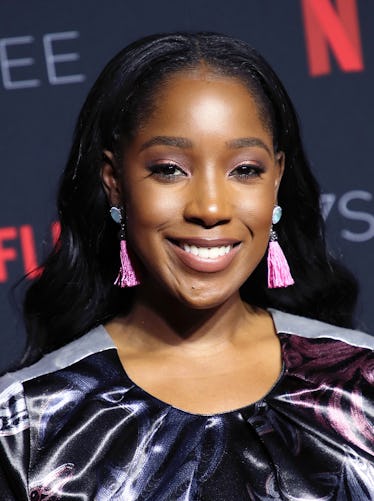 'Dear White People's Ashley Blaine & The Lip Bar Teamed Up For An Inspiring Beauty Campaign
David Livingston/Getty Images Entertainment/Getty Images
As we slowly start to see more and more forms of diverse representation in the fashion and beauty realm, The Lip Bar and Ashley Blaine's "Dear Beauty Industry" campaign is here to disrupt the beauty world — in a really good way. The Dear White People actress is using the platform with The Lip Bar to speak her mind on the industry's recent embrace of diversity.
When the star was asked by the black-owned brand what she thought of almost every major beauty retailer becoming more inclusive, she replied saying that it was "simply because they had to, due to the racial climate in society." That said, The Lip Bar's decision to partner with Blaine — who's shown no qualms when it comes to speaking her mind on race and colorism — as part of their latest project came naturally.
"Whenever The Lip Bar create campaigns, we always aim to use women who embody our mission of challenging the beauty standard," the brand said via a press release. "Whether it be through their unique look, beliefs, or character, we're all about presenting extreme authenticity to an extremely manufactured industry."
For Blaine, though, this campaign is more than just taking the industry to task — it's personal.
"I remember I was shooting a show in New York, and it was a big deal for me," she told The Lip Bar in an exclusive interview. "Like I had booked a pilot and I was really excited, and I showed up to my first day on set in the hair and makeup trailer and I mean the makeup artist literally didn't know what to do with me."
Blaine revealed that this experience really shook her. "I remember being so hurt calling my mom like I finally made it to this point in my career but yet I'm running around like a crazy person who's trying to make it so that I don't look crazy on camera," she said.
Blaine also shared that, despite the makeup artist having "50 years of experience," she had never done makeup for a black woman. The actress said that, when it came to her hair, the team on set provided some wigs that weren't up to par, so she was forced to find another hairstylist in the area.
Thankfully, that incident aside, as Blaine's stardom began to rise in Hollywood, so did her visibility. And many women who look like her are finally feeling seen.
"So many young women have hit me up on social media or even in person and just have said, like, I'm so grateful for you Ashley or Joelle," she told The Lip Bar, "because I feel like I'm finally seeing myself on media, I'm finally seeing myself on TV."
But the actress isn't the only Dear White People star who's been on a beauty journey. Logan Browing, who plays Samantha White on the Netflix series, spoke to Glamour in early June about how her views on natural hair have changed over the years.
"I thought that straight hair made me pretty," Browning said. "And [when I was] growing up in the South, getting my hair done once a week was a thing. By college, I had never seen it curly."
But just like Blaine, Browning is now embracing who she is and speaking out about it as well. "I love that [my hair is] an extension of me," she told ESSENCE last spring. "It's free, it's bouncy, it's fun. It can be sophisticated when it needs to be."
It is so inspiring to see both Blaine and Browning speak up for women who've been overlooked for so long. And while the beauty industry has embraced diversity by taking steps like increasing their foundation shade ranges, there's still a lot of work to be done until it can be considered fully inclusive (for example, steps like companies making room for employees of color to take on senior roles, so they have the power to be making decisions that can positively impact consumers). Until then, thankfully, there are a number of celebrities working with top brands to make a difference.