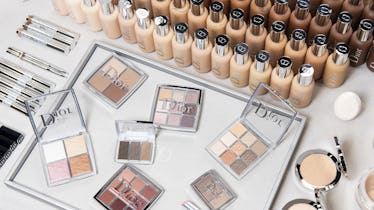 Dior Is Dropping A More Affordable Beauty Line That Includes 40 Foundation Shades
Courtesy of Dior
Dior makeup is one of those things you're always lusting over but have to justify shelling out the money to actually get — until now. The brand just launched a new line of products with a lower price-point than their average goods, but even better than that, Dior Backstage Foundation comes in 40 shades. That's four-zero shades for conceivably any skin-tone, so you, yes you, can try it out.
Ever since Rhianna basically schooled the beauty world (sorry not sorry) by releasing 40 shades of Fenty Pro Filt'r Foundation, it seems to be the new magic number. Revlon Flesh Foundation and CoverGirl TruBlend Foundation are two of the newest and biggest drops to include that exact number of shades. And guess what, it's wonderful! There's no room for shade here, only more foundation shades.
Dior is the next to follow suit and I'm here only to offer praise. Even better than the brand's extensive range of colors is the lower price point. Dior currently has Capture Totale Foundation that goes for $82 (nordstrom.com) and Diorskin Airflash Spray Foundation for $62 (sephora.com), both way out of my price range. And, I'll just say that neither of them off anywhere near 40 shades. So, bless up, Dior has added to their already beautiful line of makeup with the Dior Backstage beauty line and the world is more than ready for it.
"Here is the look of the show ⚡️with the new essential #DIORBACKSTAGE Line! Natural and radiant complexion...Translucent eyelid...Strong eyebrows...Finally, natural lips...subtly heightened with the pink gloss of the lip palette!"
The fashion and beauty brand used their 2019 Cruise (also known as Resort or Pre-Spring) runway show to debut the new Dior Backstage line. All of the models wore the Backstage foundation and other products from the collection.
Dior Makeup Creative Director Peter Philips spoke to Allure about his favorite aspects of Backstage,
It's a lightweight, face-and-body foundation that's easy to apply, buildable, and long-lasting with a dewy finish.
Basically, everything one looks for in a foundation. And if you think 40 shades is already a lot, Philips teased that "there will definitely be more."
The foundation is clearly the star of the show. Between the fact that it's available in a whopping 40 shades and that it can be used as face and body makeup, what's not to like? Oh, and it costs $40 (sephora.com). That's less than half the price of some of Dior's other foundations.
Dior Backstage isn't only about the foundation, though. The Dior Backstage Lip Palette ($49; sephora.com) is "neutral and slightly shiny" and the nine lip colors can each be worn alone or mixed together for an almost infinite array of lipstick options
The Dior Backstage Eye Palette ($49; dior.com) is available in both warm and neutral tones, comes with matte and shimmer pigments, and includes an eye primer in one of the pans which is downright revolutionary.
But wait, there's more! Dior Backstage also includes a Contour Palette ($45; dior.com), the Glow Face Palette ($45; dior.com), a Brow Palette ($35; dior.com), and 10 different shades of Lip Glow ($34; dior.com).
Philips also said of the collection,
They're meant to be easy-to-wear products that are no-brainers to use. I want to offer products for which you don't need a masterclass to use — this is more of a basic beautifying range.
The foundation is probably the most notable and exciting piece in the line — it seems to give the best value for the price compared to the other items. That said, everything in the Dior Backstage collection is honestly swoon-worthy.