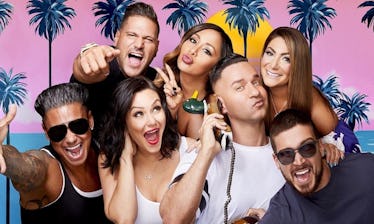 The 'Jersey Shore Family Vacation' Season 2 Premiere Is Coming SO Soon
MTV
Rejoice, Jersey fans. If Thursday night's explosive season finale of Jersey Shore Family Vacation had you spiraling over wondering when the reality show would return, there's good news on the way! The Jersey Shore Family Vacation Season 2 premiere is sooner than you think. Like, really soon. Like, this summer soon. It was announced Thursday, June 28 that the series will return to MTV this August.
With an August air date, that means you only have to sit tight for approximately two months without new episodes of Vinny, Snooki, maybe that creepy Sammi doll, and the rest of the fam. It's totally doable. Game of Thrones isn't coming back until 2019, so this hiatus is the television equivalent of a lunch break.
The timing reveal for Jersey Shore Family Vacation was unveiled via a brief sneak peek clip June 28.
"Vacation is over," the video reads, before launching into a series of things the audience might expect in the next installment. "Babies, weddings, Vegas, and surprises" are among the words used to describe what's to come.
"S*** gets real," it goes on to promise, prior to footage of Mike walking into a room declaring, "Honey, I'm home!" Then, the big reveal loyal viewers have been waiting for: "Jersey Shore Family Vacation returns this August."
"Don't worry guys, our hot mess asses are coming back soon," Nicole "Snooki" Polizzi captioned the teaser on Instagram.
Let the celebratory fist-pumping commence. Yeah, buddy!
Jersey Shore Family Vacation more than proved that the OG gang (sans Sammi, who decided to opt out of the revival) is still worth watching nearly 10 years since Jersey Shore premiered in 2009. But they're not exactly kids anymore, considering half of the group has children of their own these days. Even with their sun-soaked partying days somewhat behind some of them, the cast continued to create drama and laughs during their brief stay in Miami for Family Vacation. What makes this tight-knit crew so endearing is the fact that they actually act like a family and they're ridiculously comfortable with one another all these years later. Seriously, there was an episode almost entirely devoted to cleaning up Ronnie's toilet. If dealing with that doesn't mean family, I'm not sure what does.
Poop jokes and pranks aside, some serious stuff went down throughout Season 1. Ronnie wrestled with the reality of being a father and contemplated his relationship and place in life. Mike proposed to his college sweetheart and opened up about legal troubles and sobriety. Nicole and Jenni struggled with being away from their kids and husbands back home.
Of course, there was plenty of time for clubbing, quarreling, and late-night antics. Angelina, who exited the show early in both Season 1 and Season 2, came back to spice things up and, despite an unfortunate drunken mishap, she and the group made steps towards a reconciliation. Will she be back for Season 2? Methinks I saw her name in the above promo at some point, though to be fair, those words are moving really fast...
Mike has already hinted that wedding prep will indeed be a part of the second season, so get ready for more #Hitchuation moments. The 35-year-old is planning his upcoming nuptials to longtime love Lauren Pesce — a "situation" that will apparently be captured in new episodes.
"I believe so, yeah. I can't say anything, but I already did," Mike revealed to ET, when asked if his marriage planning would be a part of Season 2.
"I'm so happy with how this vacation turned out," Jenni declared at the end of Family Vacation's Season 1 finale. "No one went to jail. Everyone's happy, we truly love each other leaving. We just proved that it doesn't matter how old you are, you can still rage."
Jersey Shore Family Vacation resumes this August. Viva Las Vegas, meatballs.