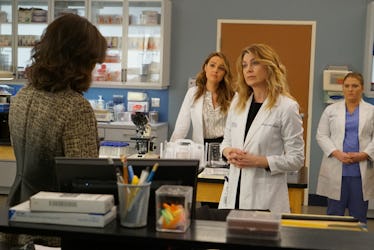 The 'Grey's Anatomy' Season 15 Premiere Will Be 2 Hours Long, So Get Ready
ABC
We have exactly a month until Season 15 of Grey's Anatomy finally premieres, and fans are definitely in for a crazy ride of love connections, career milestones, and slightly nonsensical medical talk. Expect to see more insight on the Owen-Teddy-Amelia love triangle and perhaps a surprise addition to Meredith's wilting love life, but given the format of the premiere episode, you should also prepare for plenty of fast-paced action catching up with the Grey Sloan Memorial crew. The Grey's Anatomy Season 15 premiere will be two hours long, so stock up on your popcorn and wine now.
Beginning at 8 p.m. ET on Thursday, Sept. 27, on ABC, Season 15 will debut with a two-hour premiere episode. This isn't the first time the series has packed two episodes' worth of material in one, as several season premieres and finales have earned two consecutive hours before. The premiere episode will run until 10 p.m., when the Season 5 premiere of How to Get Away with Murder will begin. The full TGIT block of programming will resume the following week on Oct. 4, when Grey's Anatomy returns to an hour-long episode and Season 2 of Grey's Anatomy spinoff Station 19 starts at 9 p.m. ET. We love any dose of Shondaland we can get, but the fact that the new Grey's Anatomy season kicks off with two hours of content speaks volumes about the episode's quality.
When we last left the doctors at the end of Season 14, Jo and Alex had just tied the knot, starry-eyed and seemingly ready to pursue Jo's new career opportunity across the country. Arizona and April officially bid goodbye to the hospital, with Arizona moving to New York with Sofia and April marrying Matthew on a whim and pursuing work with the homeless. While Owen and Amelia reconciled after a tumultuous period of their relationship, Teddy revealed to a patient that she was pregnant, most likely with Owen's baby.
For being the lead of the show, Meredith's story in the season finale was quite uneventful, but as Season 15 is being billed as "the season of love," a new man could always be introduced to her in this two-hour extravaganza. At some point in the season, Meredith will also face a visit from her estranged father Thatcher, perhaps bringing Meredith's storyline back to its origins of exploring her difficult family relationships. I'll never complain about a sweet new love story on Grey's Anatomy, but Meredith has always thrived without a guy around, so there are no complaints from me if a boyfriend doesn't play out for her this season.
The supposedly unique handling of Owen's love triangle with Teddy and Amelia will also dominate the early half of Season 15. Actors Kevin McKidd and Kim Raver have hinted that the love triangle wouldn't necessarily pit Teddy and Amelia against each other, which is always great to see nowadays. McKidd has also revealed that Owen won't find out about Teddy's pregnancy right away, so fingers crossed for a cliffhanger reveal at the end of the premiere episode. I'm ready for this drama to unfold ASAP, so when it comes to episode length, the more the merrier.
Season 15 of Grey's Anatomy premieres on Thursday, Sept. 27, at 8 p.m. ET on ABC.