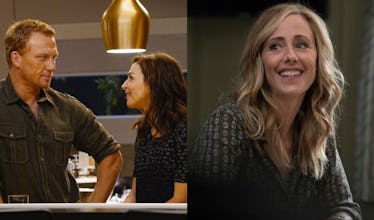 Owen & Teddy From 'Grey's Anatomy' Revealed The Love Triangle With Amelia May Have A Twist
ABC
Foreshadowing Grey's Anatomy Season 15's tagline of "the season of love," the ABC drama's 14th season ended with a bombshell about the lovesick scenarios new episodes are bound to cover. Teddy is most likely pregnant with Owen's baby, while Owen has seemingly reconciled with Amelia and fallen back in love with her, thus devising a juicy love triangle for Season 15. The actors have teased the complicated situation before, but some of them just dropped another major clue about how the show handles this. Going into the season, fans have a huge question: Do Amelia and Teddy fight over Owen on Grey's Anatomy? This may not necessarily be the case.
This won't be the first time Teddy's longtime feelings for army buddy Owen have landed her in the middle of a love triangle. When she first came to Seattle to mentor Cristina, the result was the typical overdramatic, unflattering scenario we've come to expect on TV when two women are pursuing the same man. Thankfully, the show and its depiction of women has evolved since then, and according to Kim Raver, who is a series regular as Teddy once again, we'll see a different approach to this kind of love story. She told The Hollywood Reporter:
We're in 2018 and I pitched, if we can, not having woman pitted against woman. Amelia and Teddy definitely have what they want, but maybe there's a different way for us to approach it. And the writers seem very interested in that and we're hopefully going to head in that direction... I can't talk about it, but it's a device in the storyline to make the love triangle different than we've seen it in the past.
Hmm, the plot thickens! Introducing a new kind of "device" to make a love triangle unique is definitely unpredictable, but when considering the characters involved, finding an unexpected angle makes total sense. These are older characters who have thriving careers and families, and Owen now having his own child and thus checking off a major bucket list goal means that he finally has his priorities straight. As opposed to what he might have done a few years ago, it sounds like he'll handle Teddy's pregnancy maturely, and Amelia also being a parent ought to positively impact the love triangle's results too.
Kevin McKidd has previously spoken about the importance of Owen's history with both women, and he also believes that the trio's maturity will fuel decision-making in their scenario rather than animosity, telling THR:
What they want to do [now] is show people who have histories and have feelings — all three of these people have a lot [of] baggage and history with each other. And there's children involved, which is a responsibility. It's not just young people going, 'I love you … I don't know who I love.' They're grown-ups now. It's going to be interesting to see how people navigate this pretty murky and difficult and challenging news.
When Season 15 premieres in late September, Owen won't learn of the pregnancy right away, and McKidd says that as of Episode 2, he still won't know Teddy's secret. When she does confess, she may not immediately declare love for Owen, as she never wanted to see him again once she realized that his relationship with Amelia wasn't totally through. Forget all the other characters, we could have a whole series centered around this upcoming shenanigans!
Season 15 of Grey's Anatomy premieres on Thursday, Sept. 27 at 8 p.m. ET on ABC.