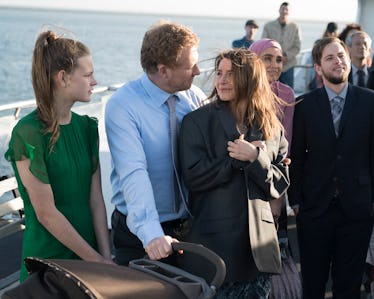 A Major Love Triangle Is Coming To 'Grey's Anatomy' Season 15, According To The Stars
ABC
Season 15 of Grey's Anatomy has officially been billed as the "Season of Love," and it sounds like we can expect a sugary dose of rom-com madness as the Grey Sloan Memorial doctors settle back into work after Jo and Alex's wedding. With Teddy returning to the hospital, upcoming episodes are sure to revisit her complicated relationship with old army buddy Owen, who recently reconciled with ex-wife Amelia. According to the stars behind these characters, Grey's Anatomy Season 15 will have a major Teddy, Owen, Amelia love triangle, but I think fans totally saw this plot twist coming.
At an ABC press junket, actors Kevin McKidd and Kim Raver both spoke about what viewers could expect from their characters this year. Both addressed the complications that Teddy's surprise pregnancy will create for the pair and Amelia, who Owen seemingly recommitted himself to at the end of Season 14. McKidd told E! News:
[Creator] Shonda [Rhimes] always make you think it's gonna be a love triangle and then turns it into something else, so at the moment, I assume it probably will be, because Owen has...very different feelings [and] history with both of these people...all I've been told is that it's not going to be a typical love triangle situation...I think there's some genuine stuff going on there [between Owen and Amelia]. Him and Teddy, he went and explored that and she kicked him out...in his head, that's done. It's going to be really interesting to see what happens when this big news comes.
Raver, now a series regular for Season 15, also confirmed the impending love triangle, saying:
I think what's great about it is that it's not going to be the typical love triangle...[Showrunner] Krista [Vernoff] and the writing team just have an amazing storyline and I think it gets complicated, but in a very sort of multi-layered way.
The new chapter in Teddy and Owen's relationship adds onto the pair's fairly turbulent history. Before she left the hospital for another army job in Season 8, Teddy first worked alongside Owen in Baghdad, falling for him basically instantaneously. The timing between the two never quite worked out, as Teddy later came to Seattle to mentor Cristina, then Owen's girlfriend. After a string of messy relationships and flings, Teddy married Henry, but she later blamed Owen for her husband's untimely death and putting her professional responsibilities before her relationship.
Now at her new army medical job, Teddy was considered a thing of past while Owen eventually fell for and married Amelia. They decided to split early last season, but, as seen in the finale, the couple seemed to rectify that bumpy patch in their relationship, while Teddy revealed her pregnancy to a patient. Seeing as we caught Teddy and Owen hooking up earlier in the season when Owen felt he and Amelia were through, there isn't much debate about who the baby daddy is. Cue the drama!
Although many fans have taken the new season's theme of love to mean that the widowed Meredith is finally in another romantic relationship, it's clear that this Owen-Amelia-Teddy storyline is bound to reflect that tag too. It doesn't quite sound like your typical romantic comedy, but here's to figuring out how Owen will react to Teddy's special news.
Season 15 of Grey's Anatomy premieres on Thursday, Sept. 27, at 8 p.m. ET on ABC.