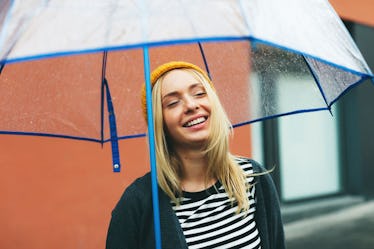 6 Things The Girl Who's Always Running Late Wants You To Know
Girls who are always running late, unite! Actually, can we meet up in like five minutes? There's a line at the coffee shop, and clothes all over your bedroom floor. Whoops, here you go again. Fingers crossed that somebody saved you a seat, or that being early is out of style. Let's be honest: You're the friend who's always running late. This all sounds a bit familiar.
More often than not, you genuinely try to be on time. Your friends will send a message in the group chat, asking if everyone wants to grab dinner the following night. You think to yourself, "Perfect! I have so much time to prepare." With high hopes, you pick out your outfit well in advance, and plan to take a nap a little earlier in the day. Even if you hit a bunch of traffic, you're convinced you will still make it to the restaurant before everyone else. They'd show up truly shocked that you arrived with minutes to spare. Plot twist! (Do people still say that? Let me know.)
But, per usual, the day of the event comes around, and you're rushing around your apartment. The alarm didn't go off on your phone, and you stayed in bed a little too long. Your entire plan is thrown off, and you settle for a mediocre outfit and "be right there" text. Honestly, give yourself a pat on the back. You just want your friends to know that you tried, amongst these six other things.