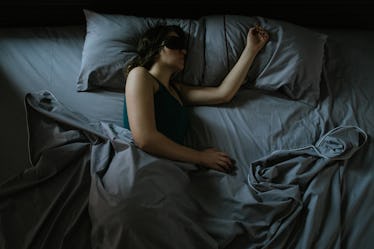 Science Says Eating This One Kind Of Food Might Help You Remember Your Dreams
It can be pretty frustrating when you wake up in the morning with the full knowledge that you definitely had tons of dreams throughout the night, but no matter how hard you try to remember the details, your mind just goes blank. Remembering your dreams can seem nearly impossible for some people, but there are certain things you can do to help boost your memory, so you can finally tell your friends just how much you and Beyoncé partied throughout the night. For example, there are certain foods that help you remember your dreams more than others, as well as snacks that can actually help you dream more vividly than if you hadn't eaten anything at all.
Of course, many aspects of dreams, in general, are still totally unknown. For one thing, we still don't really know for certain why we dream at all, or what it tells us about our unconscious state, or whether we should even read into these things as much as we do. If you've had some especially gnarly dreams about snake pits or Kanye West tweeting at you, then you're probably unwilling to believe that this has a serious psychological connection to your daily life. But if you're able to influence your dreams by the way you eat, then there must be some connection between consciousness and unconsciousness, right?
Again, the answers to those questions are still very much up for debate, but for now, science says these five foods just might help you remember your dreams, or better yet, make them more vivid.