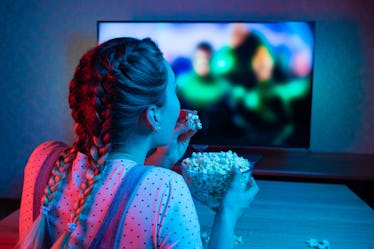 The 7 Best Snacks To Satisfy Your Midnight Cravings Without Ruining Your Sleep
Shutterstock
There's nothing worse than waking up in the middle of the night absolutely starving. OK, maybe there are quite a few things in life that are worse than that, but still, waking up hungry can totally disrupt your sleep cycle, and if you eat the wrong thing, it can become really difficult to fall back asleep. Finding midnight snacks that won't keep you up all night is totally essential if you're someone who tends to nibble on something long after dinnertime. Although this can be easier said than done, it becomes way less stressful once you follow a basic set of rules, and do a little meal prep to ensure you have the right snacks on-hand at all times.
According to Everyday Health, there are a few basic rules of thumb for picking a midnight snack: You should avoid anything high in sugar, spicy, or too fatty, and you should opt for complex carbohydrates and protein-based snacks, which will fill you up and digest slowly, without making your stomach work too hard all night while you're snoozing.
Of course, it can be hard to think of a snack that fulfills these needs, especially if you wake up in the middle of the night craving a big bowl of ramen or a scoop (or three) of ice cream. But if you have snacks prepared, it'll be easier to grab them, take a few bites, and head to bed. Here are seven snack ideas for the night owls who wake up starving.