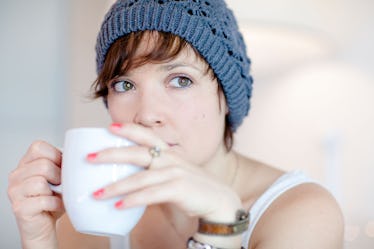 These Foods Can Cause Bad Dreams, But It Doesn't Mean You Can't Enjoy A Midnight Snack
While I love a late-night snack as much as anyone, I definitely feel weird sometimes after eating tons of salty popcorn or digging into my favorite pint of ice cream right before bed. Either my body wants me to stay up until some of the snacks are digested, or the salt and sugar give me an extra boost of energy that keeps me from drifting off. Of course, this is a pretty minor problem that I can easily fix by shifting my munchies time to earlier in the evening, but it's good to know which foods can cause bad dreams so you don't accidentally give yourself the most terrifying nightmare of your life.
TBH, there isn't a ton of scientific research out there on the effects that food can have on your dreams. Dreams are a mysterious thing in general, but I don't know about you, I hate nightmares more than anything, and despite my love for a midnight snack, I'll steer clear of certain munchie foods if it means I won't have to be spooked by creepy clowns all night long.
The thing is, apparently "eating anything too close to bedtime can trigger dreams," Dr. Charles Bae, MD, a sleep medicine doctor at the Sleep Disorders Center at the Cleveland Clinic, told Glamour. According to the outlet, eating that late can raise your body temperature and your metabolism, which in turn can cause your body to interrupt your sleep and start dreaming.
Look, I'm not telling you to stop snacking altogether at night. But if you know you need to get a good night's sleep, or you just want to avoid a creepy nightmare, here are some snacks to watch out for.