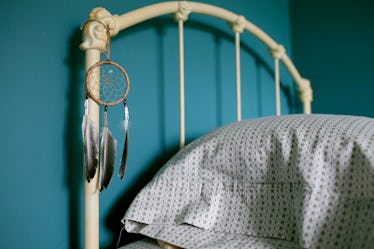 Eat These 6 Foods During The Day If You Want Your Dreams To Be Super Vivid At Night
I've always had vivid dreams, and TBH, I'm into it. Even if they're sometimes scary, or so weird or emotionally intense that they take me a full day to shake off, I've always been a believer in the idea that dreams are a window into the mind, and that a lot of information about "where we're at" can be garnered from the way our brains work during our snoozes. While I've recently learned that essential oils can get my nighttime theater to the next level, I've also been doing a little research on what foods cause vivid dreams as well, so I can snack on some before bed and see what happens.
Believe it or not, it's not all that uncommon to eat something before you go to bed and notice a distinct effect on not only your sleep, but your dreams, as well. And while there's admittedly not a ton of hard, scientific research behind the effect certain foods have on dreams, there are still definitely a few that are popularly believed to have more impact on your dream and sleep life than others.
So, if you're interested in seeing which midnight snacks induce vibrance and drama into your dreams, do a little experimentation! You might just rock your own dream world.