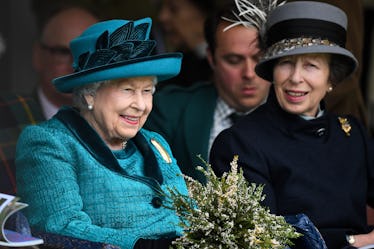 Queen Elizabeth's Cousin Just Threw The First Same-Sex Royal Wedding & I'm Happy Crying
Jeff J Mitchell/Getty Images Entertainment/Getty Images
One thing's for sure: The royals are breaking monarchical norms — especially when it comes to relationships. Case in point: Lord Ivar Mountbatten, Queen Elizabeth's cousin, just tied the knot in the first same-sex royal wedding. Further proof: Remember when Meghan and Harry were showing some major PDA at that charity polo match in July? Yeah, that was hardly a common occurrence in the past.
It's been a long time coming for Mountbatten, a British farmer, geologist, and the Queen's third cousin, once removed. The 55-year-old reportedly confessed to struggling with his sexuality several years ago, while still married to his wife of 16 years (with whom he has three daughters), according to The Daily Mail. In 2014, several years after Mountbatten and his wife divorced, he met James Coyle at the Verbier ski resort. Coyle mistook him for a guide he had skiied with and shouted "hello!' across the bar. That blunder bloomed into romance — two years later, he became the first member of the extended British royal family to publicly announce he was gay.
A couple of years after coming out, Lord Ivar exchanged vows in a private chapel at Mountbatten's country estate. It was a history-making event for sure, but not just because it marks the first same-sex royal marriage. There are lots of reasons why this wedding was a unique one. For example, there was no cutting of the cake and no first dance for this couple.
The Daily Mail reported that there were also no royal witnesses for this union, which was made official at a chapel in the very village where Lord and Lady Mountbatten raised their three daughters. As for Lady Mountbatten, she not only made an appearance at the wedding — but also gave her former husband away. Take a moment to let that sink in, folks. The Lord's ex-wife, who was married to him for 17 years, walked him down the aisle, ceremoniously giving her blessing and handing him off to his new love. If that's not the opposite of petty, I don't know what is.
That's not all, either. Mountbatten told The Daily Mail in a family interview that his daughters were actually the ones who came up with the idea. His ex-wife, Penny, admitted, "It makes me feel quite emotional. I'm really very touched." So are we, Penny. So are we. Let's not forget this isn't the first time that a royal broke tradition on that front. When Meghan Markle married Prince Harry, she walked down the aisle partly with her father-in-law Prince Charles, rather than with her own father.
Penny, who has obviously been ultra-supportive of her husband's engagement, seems to think it's an extremely positive milestone for him.
"What I don't think Ivar realizes is how much he has changed as a man since he 'came out'," she told The Daily Mail. "James is hugely responsible for that because he's so much fun. Ivar is so much more relaxed these days. He's so much kinder. He's become a great cook. He probably wasn't even aware that by keeping his sexuality a secret it was really quite tormenting him. Now it's 'out' he's a completely different person. Everybody says they've never seen him happier."
Penny, an event planner and brand ambassador, was aware that Mountbatten identified as bisexual before they married. Still, Lord Mountbatten told The Daily Mail that he hesitated to come out publicly for years due to societal attitudes.
"Being a Mountbatten was never the problem," he told the publication, "it was the generation into which I was born. When I was growing up, it was known as 'the love that dare not speak its name', but what's amazing now is how far we have all come in terms of acceptance."
Not only is Penny totally cool with her husband re-marrying, but his daughters are apparently on board, too. "When I mentioned it to our eldest daughter, Ella, she said, 'Oh Pap, it's not a big deal. It's so normal nowadays'," Mountbatten told The Daily Mail, noting that same-sex relationships seem to be more accepted by his daughter's generation.
Unlike Harry and Meghan's elaborate affair, this was a much more intimate celebration, with just 60 of the couple's family members and closest friends. Naturally, as one would expect from a royal wedding, it was chic AF. The new couple sported matching velvet smoking jackets at their wedding — and honestly, is there any other look that could better epitomize laid-back luxe? A gospel choir serenaded the attendees during the service, and afterwards, the guests toasted the newlyweds with Pol Roger Champagne.
As for the honeymoon, there's apparently been talk of jetting off to Croatia or Greece later this year. Until then, there's much to be celebrated still. The Lord may be considered extended family to the royals, but his matrimony is a sign of progress in the monarchy — and that's definitely something to bow down to.
Check out the entire Gen Why series and other videos on Facebook and the Bustle app across Apple TV, Roku, and Amazon Fire TV.
Check out the "Best of Elite Daily" stream in the Bustle App for more stories just like this!