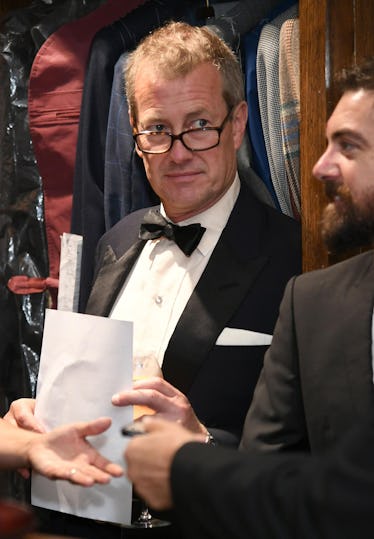 There's Another Royal Wedding Happening This Summer & It's The First Same-Sex One Ever
Richard Young/REX/Shutterstock
Today is a good day, fam. The sun is shining (well, where I am, at least), the birds are chirping, and the royal family will be having its first ever same-sex wedding very, very soon. Life is GOOD. Sure, it may be an extended royal family member, but it's still royalty nonetheless, so let's break out our party hats and get ready to celebrate the great-great-great grandson of Queen Victoria, Lord Ivar Mountbatten and James Coyle's wedding. I'll bring the champs!
According to The Daily Mail, Mountbatten, 55, is the "son of the 3rd Marquess of Milford Haven and cousin to the Queen" and confessed to struggling with his sexuality two years ago during his marriage to his wife of 16 years, Penny, with whom he shares three daughters with. But he found love when he met James Coyle during a trip to the Swiss ski resort of Verbier, and came out publicly in 2016, becoming the very first member of the extended British royal family to make such an announcement. In a family interview with The Daily Mail, Mountbatten revealed a few details about his upcoming nuptials, which will take place later this summer on Mountbatten's Bridwell Park country estate in Devon, southwest England. "We'll be pronounced partners in marriage, but the ceremony itself will be very small," Mountbatten said, adding that his ex-wife will be the one to give her former husband away at the ceremony — a concept that his children came up with. "It was the girls' idea," Penny said, adding, "It makes me feel quite emotional. I'm really very touched."
Can we just talk about how amazing this modern family is? Having your mother give away your father on his wedding day to his soon-to-be husband? I seriously can't take this perfection!
Mountbatten continued talking about how fortunate he is to have such a supportive ex-wife and future husband, saying, "We really are a funny threesome. Not in that way," reportedly laughing.
Coyle also talked about the big day, sharing a few details about their reception:
Everyone else — about 120 friends — will arrive for the party afterwards. We'll have lovely food and really good music, but there won't be two men in tuxedos on a cake, white doves or anything twee or contrived like that.
Perhaps this is too forward, but... can I come? This sounds like a pretty lovely affair, and since I didn't get invited to Meghan Markle and Prince Harry's wedding, this *might* be this next-best thing.
And, just like his rockstar ex-wife, his kids are totally chill with the idea of their father finding love with a man. "When I mentioned it to our eldest daughter, Ella, she said, 'Oh Pap, it's not a big deal. It's so normal nowadays'," Mountbatten said, noting that his daughter's generation seems to be more accepting of same-sex relationships. "Of course that generation, they're completely cool about the concept of this — maybe not so cool about their own father, which is completely understandable."
Well, pretty much *anything* your dad does is somehow uncool, so that makes complete and total sense. Unless your dad is like, The Rock, and even that's debatable.
Dads, amirite?
But it's nice to have the support of your family, and it seems like even some of Mountbatten's extended family members (cough, cough, the Windsors) try to enforce their support to the LGBT community. Last year, Prince William received the annual British LGBT Awards' Celebrity Straight Ally award, and spoke out against homophobic bullying. He said,
In recent years I've been compassionate about what we can do to protect people from bullying, particularly online. Through this work, I've encountered a number of tragic stories about LGBT young people who have, sadly, felt unable to cope with the abuse and discrimination they face in their lives ... no one should be bullied for the sexuality, or any other reason.
Can we just hear a HELL YES for the royal family right now? Living for these changes, you guys!