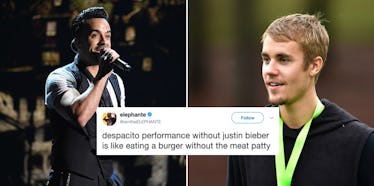 Luis Fonsi Performed "Despacito" Without Justin Bieber At The Grammys & Twitter Is Torn
Kevin Winter/Getty Images Entertainment/Getty Images // Stuart Franklin/Getty Images Sport/Getty Images
The only thing I love more than watching really talented people win really prestigious awards at the Grammys is watching the performers do their thing on stage at the Grammys. Yes, the red carpet is always enjoyable, the host almost always makes me laugh, and the anticipation of which nominee will win is clearly fun and everything, but the performances are where it's at. And this year's stellar lineup has got me amped, you guys. Hello, Lady Gaga, P!nk, and Childish Gambino. But there's one performance in particular that's getting a lot of attention: The "Despacito" Grammys performance, which didn't include Justin Bieber, has the world voicing a lot of feelings about it.
Look, Bieber aside, Luis Fonsi absolutely crushed it: Perfoming completely in Spanish, as the original song was, Fonsi danced around the stage, and looked mighty fine doing it, I might add. Also, watching those backup dancers on stage makes me wonder how some human bodies actually move so gorgeously. Like, how does your torso roll that way? How do your shoulders pop like that? Who's teaching you, and can they teach me?
But seriously, as great of a performance as it was, Twitter was pretty torn, because HELLO? NO JUSTIN BIEBER.
Some fans were not happy:
While others thought it was fitting for Bieber to be left out:
Sort of torn, TBH.
"Despacito" was arguably one the biggest songs of the year. It's the kind of song that makes you desperately want to be the red-dressed salsa dancer emoji and go buy yourself a pair of festive maracas (Amazon, for anyone who's still considering). And guess what? Fonsi's performance at the 2018 Grammy Awards did NOT disappoint (minus the whole no-Biebs thing).
In case you didn't know, "Despacito" was nominated for three different awards — Record of the Year, Song of the Year, and Best Pop Duo/Group Performance. Those are the kinds of nominations that make you just want to get up and bust a move while balancing on some jetty rocks near the ocean, amirite?
Not too shabby, if you ask me.
And honestly, if a song that has some pretty, erm, intense lyric translations can be nominated, I say that we simply have to give props to Luis Fonsi for making it happen. Seriously, if you've yet to Google Translate the "Despacito" song lyrics' meaning, I highly recommend it. For those of you too busy to do it, let me help you out really quick and hit you with the chorus translation:
Slowly
I want to breathe your neck slowly
Let me whisper things in your ear
That you'll remember when you're not with me.
Slowly
I want to undress you with kisses slowly
Sign the walls of your labyrinth
And turn your body into a manuscript
Does it feel warm in here? It feels warm in here.
In an interview with Entertainment Weekly, Fonsi talked about the success of the song, and what it was like pairing up with Daddy Yankee and the Biebs to deliver the world the most popular Spanish-language song since "Macarena" in 1996. He said,
It's exciting! It wasn't planned this way. I was born in Puerto Rico but was raised in Orlando and now [live] in Miami. So I've had success in the U.S., but toward a Latin audience. Now it's a new door that opens. It's refreshing.
When Fonsi released the track with Daddy Yankee initially, it was without Justin Bieber. But Fonsi recalls when Bieber contacted Fonsi and asked to be a part of the song. He said,
It was a great call that I got when they told me he wanted to be a part of it. I know how it is when you're out on tour and your head is 'What's the next city? What time do I have to wake up for sound check?' And here he is in Colombia, he hears the song and he loves it — he sees how people react — and says, 'I need to be a part of this movement.'
Smart move, Justin. Very smart move.
Considering Luis Fonsi's intense performance at the Grammys this year, I think we can all agree that he is on feugo and can expect to hear more music from him.
Seeing more dance moves couldn't hurt, either.