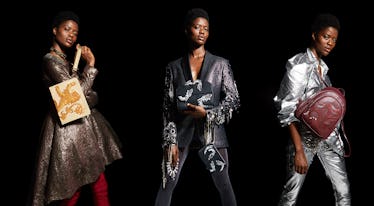 This Brand Made A 'Game Of Thrones' Handbag Line, So Excuse Me While I Accessorize Like Khaleesi
Courtesy of Danielle Nicole
Even though I don't actually watch Game of Thrones (Don't hate me! I'm too busy to delve into a lengthy series!) I admit to being seriously fascinated with the styling the show has become known for. The Mother of Dragons and her crew know a thing or two about how to create a lewk, so it shouldn't be surprising that even non-viewers like myself are quick to praise the costume work. Whether a character is rocking full-on fur, leather, lengthy braids or battle-inspired accessories, they always manage to pull it off in a way that somehow seems chic — and while I'm not saying I want to wear a Khaleesi Halloween costume in my day-to-day life, I think the Danielle Nicole x Game Of Thrones handbag line is the perfect way to incorporate the show's style into everyday pieces.
Accessories brand Danielle Nicole was founded by designer Danielle DiFerdinando, who took inspiration from Game of Thrones' epic looks when creating the new 18-piece collection. "We turned to the show's main characters' costumes, personalities and mythical creatures," she says via a press release. "We drew upon the fundamentals of the show, which resulted in a dark and romantic collection combined with plenty of dramatic flair."
If you aren't familiar with "Thrones Chic" style (as I just now decided to call it) just take a look at the styles in this trailer and tell me you wouldn't be low-key thrilled to rock any of these badass outfits:
"Since Game of Thrones already has such iconic style and influence on today's fashion, we used the show's costumes for direction in designing the pieces," says DiFerdinando. "We wanted each material, detail and embellishment to be a direct reference to many of the looks you see in the show."
The dragon motif on these styles is so Khaleesi, but I'm loving what appears to be a Red Priestess-inspired shade of crimson for fall and winter:
The silver hardware and black fringe accents are also very edgy and tough, in true Thrones Chic accessory fashion.
I also love that this wristlet pouch has "LANNISTER" printed boldly along the strap, for any stans of Cersei and her family to proudly rep their loyalty. (Don't worry, the brand designed a version for each house!)
While a lot of people will probably buy the collection based purely on how cool the pieces are, I'm sure the majority of buyers will be die-hard GoT viewers looking to rep their faves. "Game of Thrones fans are always looking for new ways to represent their love for the show and their favorite characters," says Jeff Peters, VP of Licensing and Retail at HBO. "With Danielle Nicole's new bags and accessories, they can carry their fandom out into the streets and represent the show in their own personal looks."
Based purely on fashion and not at all on GoT politics, these bags embellished with the Stark House sigil make me think I'd want to be on their side, simply because these pieces would complement my lewk:
I'd also like to shout out my favorite piece from the collection, a cool black crossbody with silver dragons crawling every which way.
How is it even possible that this would suit both my favorite little black dress and a full-on Khaleesi queen ensemble so effortlessly?
Me preparing to buy all the cute items despite my lack of GoT knowledge:
The collection has items ranging from $18 to $88, so you can stock up on pieces inspired by several of your faves or splurge on one statement bag. (I vote the crossbody with the dragons! Do it!) Despite the fact that the materials and textures are inspired by those worn on the show, one important note is the whole collection is non-leather, so even more GoT fans can enjoy these pieces.
To snag them for yourself or a friend who you know can appreciate a nice Thrones Chic lewk, you can find the entire collection available on the BoxLunch site on Nov. 8, as well as on the Danielle Nicole website on Dec. 8. While you're shopping, be sure to pick up styles that work with your cold-weather wardrobe, because remember: