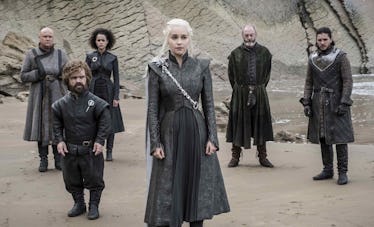 'Game Of Thrones' Brought Back Ned Stark & Khal Drogo For A Reunion Special
HBO
Game of Thrones fans are going to get to see some of their long-dead favorites return for the upcoming eighth and final season of the fantasy epic. Well, killed-off characters like Ned Stark and Khal Drogo might not actually appear in character in the new season of the show, but the Game of Thrones cast filmed a reunion special, according to Sean Bean, and it will be the perfect way to give the series a proper goodbye.
In a new interview with The Hollywood Reporter, Sean Bean let the news slip that he recently reunited with the rest of the Game of Thrones cast to film a reunion special, which will hopefully air on HBO at some point during the upcoming final season. When asked about keeping in contact with his co-stars, Bean said that he actually saw them all last month for a reunion special in Belfast hosted by Conan O'Brien:
I've only seen them on a couple of occasions. Last time, was about four weeks ago in Belfast. Conan O'Brien did this thing. It was the last episode, so we all got together. It was good! ... It was for season eight, the last one. So they decided to get all the characters together for a bit for this big show in Belfast and he kind of hosted the evening.
Unfortunately, Sean Bean did not go into more details about who else was involved in this reunion special or when it might air. It is actually not even clear if this special will air — there's a possibility that it may actually be released as a bonus feature on the Season 8 DVD. But more likely, fans will get to see this reunion either on HBO during the course of Game of Thrones Season 8, or since it was hosted by Conan O'Brien, air as a part of O'Brien's TBS talk show Conan.
And Ned Stark may not be the only character killed off early in Game of Thrones that will be represented at this reunion special. Entertainment Weekly pointed out that Jason Momoa has bee spotted in Belfast recently, which initially stirred up rumors that his character of Khal Drogo may somehow appear in Season 8, but now that we know about this reunion special, it sounds more likely that Momoa was joining Sean Bean and the rest of the cast in looking back on the fantasy epic.
Along with dishing about the reunion special, Sean Bean also mulled over whether or not he might play Ned Stark again in one of the several Game of Thrones spinoffs that HBO has in the works. Bean said that his biggest concerns are that he looks too old to play a younger version of Ned Stark in a prequel, and he would also want to be sure that the role maintained the quality of Game of Thrones. But if those things worked out, then he did seem to say that it could be in the cards.
The eighth and final season of Game of Thrones is slated to premiere on HBO at some point in early 2019.