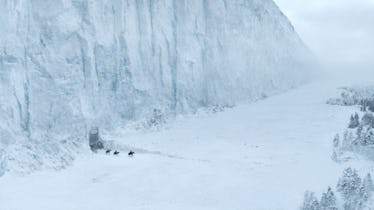 Here Are All The Answers To Your Burning 'Game Of Thrones' Prequel Questions
HBO
Production on Game of Thrones Season 8 is winding down. In a few weeks' time, the last of the filming for the final season of HBO's flagship program will be finished. Naturally, this means it's time for HBO to begin greenlighting a spin-off series, or perhaps multiple spin-offs, as they have no less than five scripts commissioned. At the end of last week, HBO announced the first of the pilot scripts had been greenlit for filming. What does that mean for a debut? When will the Game Of Thrones prequel premiere?
Just because a pilot script moves to the production stage doesn't automatically mean the show is bound for HBO's schedule. As George R.R. Martin, who spent decades in the TV business before writing A Song of Ice & Fire, reminded everyone this week on his blog:
To clarify, what we have here is a pilot order, not as yet a series order. Though of course we are all hoping that will follow.
Fans of Game of Thrones will also be advised to remember that bringing Westeros to the small screen is a huge endeavor. It took the original series two pilots and a couple of major recastings before the show was put to series.
With that in mind, here's what there to know about this Game of Thrones prequel.
Which Prequel Is This?
HBO commissioned five Game of Thrones spin-off scripts. Two of them are being written by stand-alone authors, without Martin's assistance or consulting:
Max Borenstein (Kong: Skull Island)
Brian Helgeland (L.A. Confidential)
Three have Martin listed as co-producers:
Carly Wray (Mad Men, The Leftovers)
Bryan Cogman (Game of Thrones)
Jane Goldman (X-Men: First Class)
The pilot that was green lit was Goldman's. According to Martin she wrote the pilot script and will be the series show-runner. He also gives an update on the other four:
One of those has been shelved, I am given to understand... Three more prequels, set in different periods and featuring different characters and storylines, remain in active development. Everything I am told indicates that we could film at least one more pilot, and maybe more than one, in the years to come.
When Is It Set?
Up until now fans had no idea when any of these prequels were set. Popular ideas included The Targaryen Civil War (aka The Dance of Dragons), The Targaryen conquest of Westeros, The Doom of Old Valyria, and the first Long Night.
The final guess was correct: Goldman's script is set during the original Long Night when the Night King first rose up and attacked Westeros during a period known as "The Age of Heroes."
The series is as yet unnamed, but Martin has a suggestion: The Long Night. HBO will most likely want "Game of Thrones" to be somewhere in the title though. A far more likely name might be Game of Thrones: Age of Heroes.
What's It About?
This "Age of Heroes" series may be HBO's best chance at a "Most Likely To Succeed" angle. Unlike the other ideas, this story is all but a reboot of the story fans already know.
It will even have families viewers will recognize. There are the noble Starks, back when they were The Kings of Winter, and their lands did not stop at an artificial barrier known as "The Wall." There are the scheming Lannisters, before Lann the Clever tricked the Casterlys into giving their family, Casterly Rock. There are a few other families, who rule their little corners of Westeros, long before there was an idea of "The Seven Kingdoms" or an Iron Throne.
What it won't have are Targaryens or Dragons. That's a huge difference. Most of the other ideas require a show to start out with Season 8 level-sized dragons and budgets to create them. This pilot doesn't. Instead, it leaves those CGI dollars for Giants, Children of the Forest and, yes, direwolves.
When Will It Premiere, If It Gets Put To Series?
Well, first they have to hire a director, and then they have to cast it, and then they have to film it. All that will take place over the course of the next year or so. If the series is then ordered from the pilot created, the earliest HBO could have it would be mid-2020, so my money would say April 2021.
Meanwhile Game of Thrones final season will premiere next year in 2019 whenever HBO gets around to it.