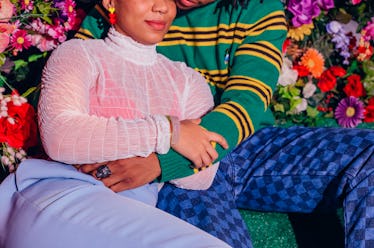 The Cuffing Season Anthem You Need To Hear, Based On Your Sign
Is there a better way to celebrate your new cuffing season romance than busting a move or belting out the lyrics to an absolute banger? I didn't think so. Although you and your new boo may instantly agree on which tune will be your song this winter, there's no shame in seeking out a little celestial guidance. And if you're searching for the cuffing season anthem you need to hear, then you, my friend, have come to the right place.
While you and your boo may love nothing more than staying up all night talking, sometimes you just need to sing in the shower and dance barefoot in the kitchen. Sure, checking out "Your Top Songs 2019" playlist on Spotify can provide a blast of nostalgic fun. But finding your groove to a tune you've never heard before, can feel like falling in love for the very first time. Whether you're gearing up to meet all your parter's friends or you just can't stop thinking about how smitten you are with your new significant other, consider these 12 songs the celestial soundtrack to your cuffing season.
And from sexy songs to sweet tunes, here is your zodiac-inspired cuffing season power jam.