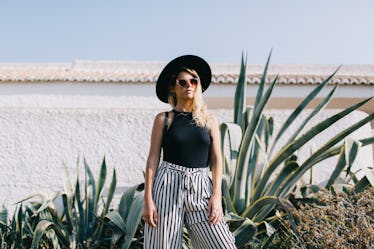 The Girl Who's Confident, Not Cocky, Wants You To Get These 7 Things Straight
There's a lot to be said for being confident. When we're in our 20s, we're often still feeling pretty lost and looking to find our place in this big world. We may be unsure of what we're really passionate about, or what we want in a relationship — and some of us so easily get caught up in the stress of adulting that we forget that life is ours to live. But, on the bright side, the confident girl is the one in your crew who's constantly reminding you it's all going to be OK. She might come across as cocky at first, but there are a few things you should really know about her before you make any assumptions.
This is the girl who knows what she wants and isn't afraid to go after it. Her star sign might be Aries, and she's the leader of any pack she decides to be part of. Whenever there's a tough decision to be made, she's the one everybody looks to for all the answers. Yes, she doesn't have it all figured out, but you always have a lot of faith in her free and unwavering spirit.
She's constantly radiating good vibes, and has been the queen bee as long as she can remember. This isn't some Regina George from Mean Girls situation. This confident girl is just being a #girlboss, and wants you to know these seven things before you assume anything else about her.