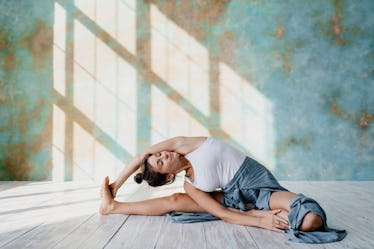 Namastay At These 5 Yoga Retreats This Summer & You Should, Too
On an average weekend, you always try to treat yourself to a little rest, relaxation, and rejuvenation. Sometimes, you may make an appointment to get your hair done or your nails painted the perfect shade of pastel pink. Other times, you might text your besties a message like, "Hey! Come to my apartment," and have an at-home spa afternoon. Together, you spend hours doing avocado and honey facials, and catching up on the latest beauty and fitness trends. This summer, you really want to take it up a notch, though, and namastay at one of the best yoga retreats for summer 2019.
Truth is, as much as you may love taking bubble baths and laying around in bed in a towel afterwards, it's not quite the soul-searching experience you're looking for. It brings your mind to ease at the end of a long day, and lets you disconnect from all your "real world" responsibilities. But, it doesn't make you feel empowered or overwhelmed with bliss.
I understand that. Your desires to travel the world, dive into downward-facing dog and other yoga poses, and find yourself, is totally justified. Just pinky promise me you'll spend 10 days or so this summer at one of these five retreats. They'll make waking up with the sun, learning about meditation, and going on a spitirual, smoothie-filled journey so much sweeter.