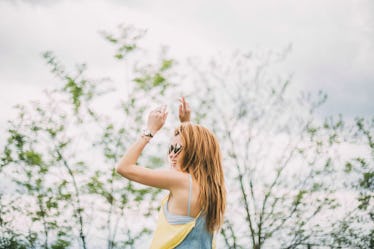 If You're In Your Mid-20s, You'll Really Look Forward To Doing These 5 Things This Weekend
As you get older, you may find that your social life starts to change a bit. You and your besties might be less interested in going to the local bars and restaurants on Saturday nights — agreeing in the group chat that they can be sweaty, crowded, and expensive at times. You don't really want to spend an hour or two getting dressed up to spend a night in the city, or spend your Sunday mornings driving to get a bacon and egg sandwich. That's OK and natural, and makes space in your life for new passion, interests, and items on your bucket list. In fact, there are so many things to do in your mid-20s over the weekend that you'll be truly excited for. Ready, set, go!
Well, don't go quite yet. You still need all the deets on these activities and excursions you'll gladly want to put in your planner. But, before we dig into them, I want to give you some blunt advice. First, stop saying "yes" to adventures you really don't want to go on. You're not doing yourself any favors. (And odds are, your besties are very open and willing to trying new things, too.)
Second, speak up. If you'd rather go somewhere you've never been to before, or order a pizza and hang at your apartment, then express that. Send a text in the group chat, or suggest these five things to do over the weekend. You truly won't regret it.