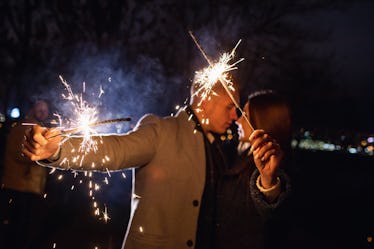 50 People Share Their Best, Worst, & Most Awkward Dating Stories From The 2010s
Shutterstock
When the 2010s began, my most serious relationship to date had been with a boy I'd met at age 12. We had starred in a summer camp production of High School Musical together as Troy and Gabriella. We held hands a couple of times and almost kissed once, but our relationship went on to dissolve through a string of unanswered texts. Ultimately, he was from Connecticut, and I, from New York — we were too young to be in a long-distance relationship, and our breakup didn't sting too much. Besides, something told me my best dating stories were yet to come.
Boy, was I right about that: The last decade brought on unimaginable heartbreak, puppy love, and uncomfortable sexual experiences that I still can't wrap my head around without cringing. I had penetrative sex for the first time, then went months without sleeping with anybody at all. I gave up on looking for love, then found it unexpectedly in the last place I'd thought to look. I flirted with friends, went on disastrous dates, shared intimate moments with strangers, and learned a whole lot more about myself in the process.
So, what did I discover about love, sex, and dating in the 2010s? At first thought, not much. But when I dig a little deeper, I think my biggest takeaway is to allow yourself to be surprised by the people you date. Going into a decade of dating with too many expectations can place unnecessary pressure on both you and the people you meet. Love is a little bit like art: You never know when inspiration will strike. Curious to find out more, I spoke to 50 people about their best, worst, and most awkward dating stories from the last decade. What they had to say will make you laugh, cry, and perhaps most importantly, reminisce.