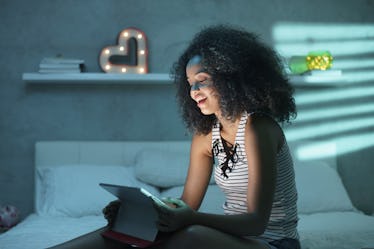 12 Virtual Games To Play On Mother's Day That Are Even Better Than Brunch
Celebrating your mom or the mom figure in your life from a distance may seem less exciting than your usual brunch with mimosas and presents galore. But, having a virtual celebration gives you the opportunity to bring everyone in your family together, no matter where they live in the world. Not to mention, the day can get incredibly lively thanks to these virtual games for Mother's Day that are even better than your mom's go-to margarita placed next to a heaping plate of bacon and eggs.
That's a bold statement, but these virtual games for Mother's Day are so fun-filled that your mom may propose putting a virtual happy hour in the books next. After seeing everyone laugh together and show off their competitive sides, she'll want to gather everyone up again and spend time with her favorite people. The truth is, even though you're not by her side during her special weekend, keeping up with your annual traditions like two-hour brunch, your mom's beyond excited to spend quality time with you and your siblings virtually.
To her, the best gift you could ever give her on Mother's Day — or any day, for that matter — is time with the people she loves, playing games, catching up, and looking back on sweet memories. Here are the 12 virtual games for Mother's Day you should play on May 9, 2021 and beyond to celebrate your favorite person.
This article was originally published on