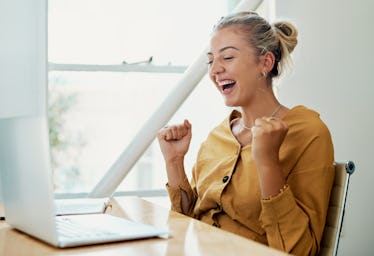 15 Virtual Bingo Game Ideas That Are Total Winners & Worth Playing RN
PeopleImages/E+/Getty Images
When it comes to virtual happy hour games, your college besties, family members, and long-distance pals have tried it all. You've played classics like "Never Have I Ever" and "Truth or Dare," and even hosted scavenger hunts from the comfort of your individual apartments. Take things up a notch with these virtual bingo game ideas that are total winners and well-worth playing right now.
From the moment you sketch out the fun-filled boards on your tablet or phone, and send them out to everyone in your crew, you'll be so excited. You'll anxiously await your cousins and BFF's reactions, which will likely be so encouraging and over-the-top ecstatic, too. They may ask if there are going to be prizes such as a gift card to their favorite restaurant or a sweet package of snacks sent to their home. They may propose having a bunch of virutal happy hours throughout the next few weeks, where you play a different board with a different theme each time.
It's totally up to you to take the reins and design the bingo game of your dreams. You're in charge of scheduling a time when everyone will gather on FaceTime or Zoom to play, and of deciding what the prizes will be, if there are prizes involved. Here are 15 virtual bingo game ideas that'll be total winners to get you started.