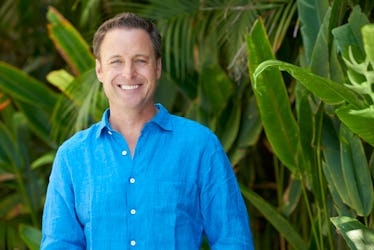 The 'Bachelor In Paradise' Season 5 Cast Is Here & There Are A Lot Of Familiar Faces
ABC
Sound the alarm, Bachelor Nation! The Bachelor In Paradise Season 5 cast has officially been announced and the reality competition show is set to feature a handful of familiar franchise faces. The roster spans multiple seasons, including members of Nick Viall's Season 21 of The Bachelor to Becca's very recent cast-offs (like, last night recent.) People reported 20 cast members Tuesday morning and the starting lineup is as follows:
Angela Azezcua, Season 21 of The Bachelor
Annaleise Puccini, Season 22 of The Bachelor
John Graham, Season 14 of The Bachelorette
Astrid Loch, Season 21 of The Bachelor
Krystal Neilson, Season 22 of The Bachelor
Tia Booth, Season 22 of The Bachelor
Nysha Norris, Season 22 of The Bachelor
Nick Spetsas, Season 14 of The Bachelorette
Joe Amabile, Season 14 of The Bachelorette
Kevin Wendt, The Bachelor Winter Games and Bachelor Canada
Eric Bigger, Season 13 of The Bachelorette and Bachelor Winter Games
Bibiana Julian, Season 22 of The Bachelor and Bachelor Winter Games
Kenny Layne, Season 13 of The Bachelorette
Chelsea Roy, Season 22 of The Bachelor
David Ravitz, Season 14 of The Bachelorette
Jordan Kimball, Season 14 of The Bachelorette
Kendall Long, Season 22 of The Bachelor
Wells Adams and Yumi Kimura as bartenders!
Chris Harrison teased the group would be a "who's who" of Bachelor faves, and the host did not disappoint. The drama force is strong with this one if only for the sheer fact that David and Jordan will be together again under one thatched roof. The guys got into it throughout Becca's current Bachelorette season thus far and both were eliminated on Monday night's episode, leading to speculation that they would likely appear on the upcoming BIP to pick up where their feud left off.
As for other Becca Bachelorette men, it looks like beloved Grocery Store Joe is indeed making a comeback after getting the boot in the season premiere (much to Bach Nation's dismay.) John, aka the Venmo guy, and attorney Nick will also get second chances at love.
Season 22 of The Bachelor was chock full of Paradise contenders fans were hoping to see more of. Endearing taxidermy enthusiast Kendall Long is heading to Mexico alongside designated "villain" Krystal Nielson, Nysha Norris, Annaleise Puccini, Bibiana Julian, Chelsea Roy, and Tia Booth. Tia has been quite the topic of discussion as of late as it was revealed she dated Bachelorette Season 14 contestant Colton before he began filming. Tia even made an appearance on Becca's season and set the record straight.
Hints that international cast members would be joining the BIP crew have been floating around since Winter Games in February, so it's no surprise to see Kevin and Yuki here. Canadian firefighter Kevin Wendt made a memorable appearance on the spinoff, winning the show and the heart of Ashley Iaconetti. He and Ashley broke up a few months following the show's wrap and now she's engaged to Jared Haibon (their proposal is slated to be a part of Bachelor in Paradise), so what's a single guy to do? Try his hand at love on national TV yet again in a warmer climate!
While Season 21 of The Bachelor seems like ages ago, you may remember Astrid and Angela — both ladies competed for Nick Viall's heart, though they were eliminated early on in the game.
Kenny Layne and Eric Bigger represent Rachel's Bachelorette season. Bigger made it to the final three and then went on to Winter Games only to leave in the spinoff's first episode.
If you're up on the Bachelor in Paradise format, you're aware that this initial cast announcement is only the jumping off point. When one person is eliminated in Mexico, another fresh face enters to spice things up...
For now, the cast is already shaping up to be quite a stellar one with juicy potential and intiguing possible match-ups galore.
Bachelor in Paradise Season 5 premieres Tuesday, August 7, on ABC.