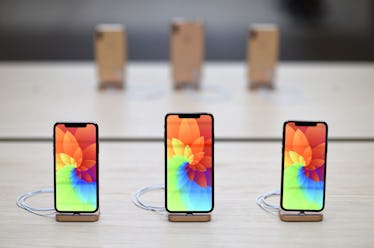 Apple Is Giving Back A Ton Of Cash If You Buy Select Products On Black Friday
Stuart C. Wilson/Getty Images Entertainment/Getty Images
If you've been holding out to buy a new iPhone XS Max or a shiny new Apple Watch, the Apple 2018 Black Friday sale is the time to make moves on purchasing some of the year's most covetable gadgets at just a fraction of the price. In addition to retailers like Best Buy, Target, and Walmart, who are rolling out specific deals on Apple products come Friday, Nov. 23, the Apple store itself is offering chances to save on its newest lineup of products over four days.
Apple's four-day sale event will let you save all weekend long through Monday, Nov. 26, and the savings are big. As far as the iPhone, you can get a $50 Apple Store gift card when you purchase an iPhone 7, 7 Plus, 8, or 8 Plus. You can get a gift card up to $100 when you buy select iPad models, a $200 gift card when you purchase certain Macs, and a $50 gift card when you buy an Apple Watch Series 3, Beats, or a HomePod.
Days before the big event, buzz started growing online after Apple giant unveiled a mysterious four-day shopping event for Black Friday weekend while keeping the exact details under wraps. Now, the day is finally here, and the company is following in last year's footsteps by giving Apple faithfuls an extra incentive to take their wallet to the Apple store the weekend after Thanksgiving. TBH, I'm pretty excited about Apple's Black Friday sale this year, which is pretty on par with 2017's savings. Last year, Apple also gifted customers Apple Store or iTunes/App Store gift cards with a value of up to $150 with the purchase of their products like iPhones, Macs, and iPads.
The practice of awarding gift cards with your iPhone purchase seems to be pretty standard for Black Friday. Walmart is gifting you a $300 gift card when you buy an Apple iPhone XS, iPhone XS Max, or iPhone XR, or a $400 gift card with the purchase of an iPhone 8, iPhone 8 Plus, or iPhone X. Over at Target, you can score a free $250 Target gift card with qualified activation on iPhone XS or iPhone XS Max on Verizon, Sprint, or AT&T, while Best Buy is giving customers a chance to save up to $150 on Apple's newest smartphone models. When it comes to Apple's newest watch series, which was released just months ago, you may actually be better off shopping elsewhere, as Target, Macy's, and Best Buy are taking up to $80 off the Apple Watch Series 3 as opposed to Apple's $50 gift card.
Wherever you end up buying your Apple gadgets, it's true that this might be the cheapest time of the year to finally spring for the newest gadget you've been eyeing for months now. When it comes to your tech of choice, I'd take a look at the different sale options and decide what works best for you and, in some cases, which retailer you'd rather have a multi-hundred dollar gift card to use after Black Friday has come and gone.