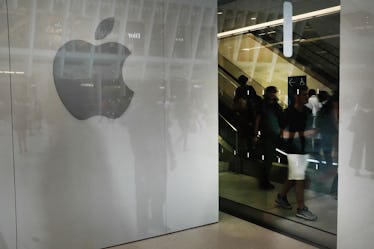 Set Your Alarm Clocks, Because Apple Is Opening Up Early For Black Friday
Spencer Platt/Getty Images News/Getty Images
It's that time of year when the holiday masses descend upon retail stores to score a good deal on top products. Electronics are oftentimes some of the top selling items during the holiday season. If you are getting a head start on planning out your holiday shopping, chances are you might make a stop at Apple. You're probably wondering, "When do Apple stores open on Black Friday 2018?" Here's what there is to know about Apple's Black Friday hours.
Elite Daily reached out to Apple for comment on the company's store hours for Black Frida, but did not hear back at the time of publication. But according to discount site RetailMeNot.com, Apple will open up shop at 8 a.m. and close at 10 p.m. These hours are all relative to the local time where you live and are pretty typical hours for the tech giant's storefronts. So, there are no major Black Friday time adjustments to note as of Tuesday, Nov. 13. That could change, though, as one of the biggest shopping days of the year draws near.
Electronics are always a hot commodity when it comes to holiday gifting. Everywhere you look, retailers are advertising markdowns on digital gadgets sure to please everyone on your holiday wishlist. Products such as tablets, computers, and phones are expected to be some of the hottest and top-selling items during the 2018 holiday shopping season. This lines up perfectly with Apple's recent launch of a brand new MacBook Pro, iPhone XS, iPhone XR, Apple Watch Series 4, and a revamp of the iPad Pro. Apple has not indicated whether or not the company will offer any special in-store discounts on their products during Black Friday 2018. In year's past, Apple has offered gift cards with the purchase of a specific product instead of a discount on an item like an iPad or MacBook Air.
If you are looking to score a deal on an Apple product this holiday season, I suggest you check out other authorized retailers like Target, Best Buy, and Walmart. On Black Friday, Target will be offering the Apple Watch Series 3 for $199.99. That's a savings of $80. Additionally, you can save up to $200 on the iPhone X from Best Buy with qualified activation. Walmart plans to shave $80 off of the price of the 6th generation iPad. This makes the final price $249. Not too shabby.
This year, Black Friday takes place on Friday, Nov. 23. The day kicks off the holiday shopping season. The National Retail Federation reports that American consumers are expected to spend an average of $1,007.24 on retail items this holiday season. On the whole, the NRF predicts that holiday retail sales will be between 4.3 and 4.8 percent higher than in 2017. That might not mean much to you right now, but in 2017, U.S. shoppers spent a combined total of $687.87 billion on retail items during the holiday season. What I'm trying to say is, it's time to prep your bank account because there aren't many paychecks left before it's time to exchange holiday gifts (or buy a little something for yourself).
Time to set your alarm clock for bright and early on Black Friday morning. Crowds tend to form hours before a store opens, so make sure you get there early (with a cup of coffee in hand).