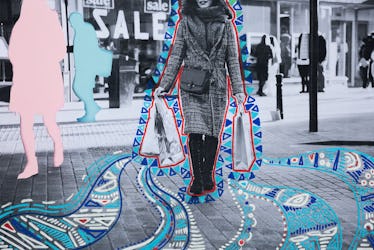 Here's How You Should Spend Black Friday This Year, According To Your Zodiac Sign
Are you ready to shop 'til you drop, my fellow stargazers? If you're anything like me, then Thanksgiving is your all-time favorite holiday, and for so many reasons, obviously. Speaking of, are you thinking what I'm thinking? Here's what you'll be doing on Black Friday 2018, according to your zodiac sign, and just so you know, the astro weather is going to be LIT. For starters, Thanksgiving lands on the second day of Sagittarius season, and for those of you who aren't familiar with this energy, all I'm going to say is, it's always a party when our friendly neighborhood Sagittarius is around.
So, here's where it gets tricky, stargazers. Granted, Sag season is always a blast, but like everything else, this zodiac sign, too, has a dark side. Think about it: Sagittarius is ruled by happy-go-lucky Jupiter, who loves to think BIG, so it's typical for us to feel the same way during this oh-so-festive season. Now, the sun, Mercury, and Jupiter will all be traveling through the sign of the archer during this time. However, Mercury the messenger will be retrograde, so this definitely changes things, especially if you were planning on slaying those online sales. Plus, there's full moon that day, too!
Nevertheless, here's how you should spend Black Friday, according to your zodiac sign:
Aries: Get Organized, So You Can Stop Stressing
If anyone's planning on waking up extra early for an action-packed day of fighting with fellow shoppers, it's you, Aries babe. Although, there's so much on your plate these days, you might want to take care of a few things, before you take it out on your credit card.
Taurus: You're Ready To Splurge Full Force
You've never been more ready to shop in your entire life, so say no more, and do the damage! In fact, you might as well grab a glass of your favorite rosé, and slip into your new silky pajama set. Your Apple Pay is ready when you are, Taurus.
Gemini: Stop Thinking About It So Much
Don't waste your time, Gemini. There will be a full moon in your sign that day, and well, I say you indulge on some Thanksgiving leftovers, and call it a day. Otherwise, you and I both know, your indecisiveness will get the best of you if you make it a point to go shopping.
Cancer: Take A Post-Thanksgiving Coma Nap
Oh, Cancer. Don't put so much pressure on yourself. I know you really want to go ham on those online sales, but don't even sweat it. Take a nap, so you can start mentally preparing yourself for cyber Monday.
Leo: Go Shopping With Your Girls
Why are you being paranoid? You're the queen bee, Leo. So, don't hesitate to get your squad together for some much-needed Black Friday shopping. That's what friends are for, right?
Virgo: Get Some Work Done
I know, working over time sucks, but all eyes are on you these days, Virgo. Luckily, you're not big on shopping, but then again, you love getting deep into those clearance racks. There's always next year!
Libra: Make It An Adventure
Lord knows you're over the mundane routine these days. Besides, whoever said Taurus was the shopaholic of the zodiac, clearly hasn't seen your groovy credit card swipes. You've got moves, Libra! Get out there and make me proud!
Scorpio: Think About The Consequences
Hate to break it to you, but you've got bills to pay, Scorpio. Enough is enough, and you're still not even done Christmas shopping. If you crack and decide to spend, make sure it's worth it!
Sagittarius: Spend Time With Your SO
Happy birthday, Sagittarius! Are you ready to celebrate? Make plans with your boo thang, so they can shower you with love. Who knows, maybe they'll take you shopping, too. You deserve it.
Capricorn: Get Your Christmas Shopping Going
You're always the responsible one, Capricorn. Truth is, you've got a lot on your mind this holiday season, starting with your nieces, nephews, loved ones, and work colleagues. Go do what you do best.
Aquarius: Do Something Fun
It's been a long year, huh? Well, the good news is, the holidays mean the year is almost over. However, in the meantime, don't hesitate to relax and let loose. You earned it, Aquarius.
Pisces: Re-Decorate Your Pad
HomeGoods? There's a full moon lighting up your cozy fourth house of home, so you might not be in the mood to work; however, did I mention it's Black Friday? Move it or lose it, Pisces!