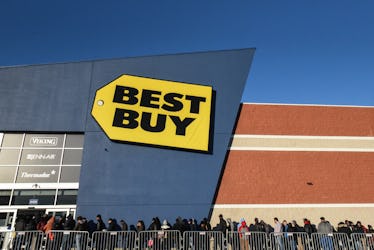 Take Home These Discounted TVs & Smartphones At Best Buy's Black Friday Sale
Stephanie Keith/Getty Images News/Getty Images
This year, you don't have to wait until Black Friday to score the year's best deals on electronics. Starting on Thanksgiving Day at 5 p.m. through Friday, Nov. 23, Best Buy is gifting shoppers the chance to snag the lowest prices of the season right after their turkey feast. A flyer of Best Buy's Black Friday 2018 sale released on Friday, Nov. 7 reveals that the electronics giant will be offering door-busting discounts on TVs and the hottest smartphones of the moment, as well as video game consoles and headphones. Plan to take a slice of pumpkin pie to go on your shopping spree, because you're not going to want to miss out on taking home the most covetable electronics at just a fraction of price this Thanksgiving.
When it comes to your new flatscreen TV, Best Buy is keeping things competitive with great discounts on 65 and 70-inch TVs this year. Shoppers have the option to save $200 when purchasing a Samsung 65-inch Class LED Smart TV with HDR for $599.99, while an LG 70-inch Smart TV with HDR is also a great deal at $699.99 (a savings of $300 off the normal price). You can also take advantage of significant price cuts on slightly smaller TVs. A Toshiba 43-inch Class LED Smart TV with HDR clocks in at just $129.99 compared to the normal price tag of $329.99, and it might just be the retailer's best deal of the season. If you prefer a Roku instead of Amazon's Fire TV, I'd recommend taking a look at the Sharp 55-inch Class LED Smart TV with HDR Roku, which will set you back just $249.99 compared to $549.99.
If you're in the market for a new smartphone but have been putting off your upgrade, Apple's brand new lineup of iPhones can be had at a discount this November. With qualified activation on Verizon, AT&T, or Sprint, you can get $150 off of your brand new Apple iPhone Xr, Xs or Xs Max, which is a total steal for the professional-quality camera, increased processing speeds, and more that you'll be getting with any of these models. If you're looking to upgrade from an early model and don't want to spring for the price tag of the newest phones, Best Buy is also selling last year's iPhone X for $200 less than the usual price.
Android users can save even more on Best Buy's discounted smartphone collection. With qualified activation on Verizon, AT&T, or Sprint, customers can expect to save $300 on the Samsung Galaxy Note9, S9, or S9+ or $200 on the Google Pixel 3 or 3 XL, so I'd definitely look into those models and weight your options.
When it comes to video game consoles, Best Buy's Black Friday selection is a little lacking with no sign of discounts on the PS4 Pro in the online ad, but they do have some other options. Gamers can save about $100 on the Sony PlayStation 4 ($199.99), as well as on the Xbox One and the Xbox One Special Edition ($429.99).
These are just a few of the best deals that caught my eye, but I'd look through Best Buy's multi-page ad to find exactly what you're looking for and compare the store's Black Friday deals to those of competitors like Walmart and Target. Many of Best Buy's Black Friday deals are marked as in-store only, meaning that you'll probably have to beat large crowds and long waiting times to get your hands on these steals, but I'd also keep an eye out for certain items to make their way on BestBuy.com for Cyber Monday.