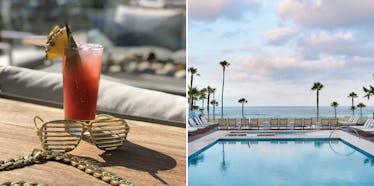 This '90s Hip-Hop Brunch With "Gin & Juice" Will Be More Fun Than Aaron's Party
Just when you thought brunch couldn't get any better, it does. Few things could upgrade a plate of waffles and bottomless mimosas with your besties, but summer always promises to be an adventure like never before. You could sit at home and listen to the same mainstream music that's on the radio, or gather up your girl crew and sing "Wannabe" by the Pussycat Dolls, and other throwback jams while pouring some syrup. Sounds pretty sweet, huh? Planning such an event would a be hassle. (No thanks!) Lucky for you, the '90s hip-hop brunch at Paséa Hotel & Spa is already on the agenda. So, the only thing you'll have to worry about is fitting a "Gin and Juice" into your feed.
If you're 21 and over, this is a bottomless mimosa affair you won't want to miss. Your Instagram could always use a throwback picture or two, but imagine actually reliving all of those moments from the '90s, not just on the screen. You'd get to break out your slap bracelets and scrunchies, and would channel all the best Rachel outfits from Friends. The days of scooters and disposable cameras will forever be calling your name, and you'll feel like a kid again just at the sight of KoolAid. Can we watch All That, too?
Let me give you the 4-1-1 on this brunch, though. The beautiful oceanfront hotel is hosting a series of these events, and they are bound to be just as fun (if not more so) than Aaron's party. With a video DJ, craft cocktails, and crimped hair everywhere, you'll want to get your name on the guest list ASAP. Not to mention, your 'Gram would look good with something so social media-worthy on your feed.
What can you expect at the brunch?
Take a second to think about all of your favorite things from the '90s. Were you totally obsessed with video games or watching MTV? Whatever the picture in your head is, watch it sort of come to life in the presence of breakfast food.
The Paséa Hotel & Spa will celebrate the incredible culture of (dare I say) the best decade ever. You'll be treated to drink specials like "Gin and Juice" and "CoolAid," and will be able to get your hair crimped courtesy of Drybar. There will be a DJ spinning only the best records from the '90s, like "Hey Ya!" by OutKast and anything by Destiny's Child or Weezer. Getting jiggy with it will most definitely be a must.
When it's time to post a picture on the 'Gram, you'll want to head to the graffiti artist for a sick backdrop for you and your girls. It'll be hard to spend any time inside, considering the coastline is right there. But, showing off your Nintendo skills may be necessary as well. You knew all of those afternoons playing Mario Kart would come in handy in the real world.
Of course, there will also be a ton of yummy food. What's brunch without your favorite things to eat in the morning? The menu will also include dishes like the Ol' Dirty Basted Chicken, which comes with a spicy Southern rice, and MC Hamm-in Cheese Toast. This will be the event of the summer to attend, especially if you're looking to drop a mixtape.
Where and when is this Instagram-worthy event happening?
The Paséa Hotel & Spa is located in Huntington Beach, CA. So, you and your girls will want to book some plane tickets ASAP, and make it a point to stop here during your trip. There are so many dreamy spots along the Pacific Coast Highway, but not every waterfall or wave will come with waffles and a side of Wayne's World. Dedicate one morning to soaking up the '90s and bright ocean views instead of the sunshine.
This event will be held every second Sunday (April through June), and tickets cost $65 for one adult. Don't worry, that price includes bottomless mimosas. It's definitely bring your own Hubba Bubba bubble gum, though.
Why do you need to gather your girls ASAP?
When else will you have a chance to wear your mood ring? You've been putting off your wanderlust for way too long, and this brunch is the best reason to finally find room in your budget and schedule for an adventure. Your Instagram will survive, and thrive, the second you post a picture that feels like a throwback. Let's be honest, your followers will be pretty jealous that you're at such of a one-of-a-kind brunch with your besties.