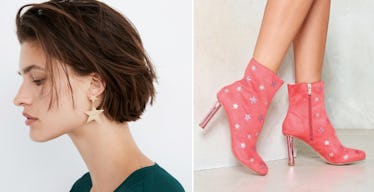 2018's Celestial Clothing & Accessories Trend Will Have You Seeing Stars
Courtesy of Madewell/Nasty Gal
Everyone loves a good fashion trend — I use them as an excuse to buy clothing that I don't necessarily need. With 2017 coming to an end, it's time to look at what some of next year's biggest styles will be, and this 2018 fashion trend is one of my favorites. As anticipated, Star Wars: The Last Jedi is making a big splash in the movie world. Actress Daisy Ridley wore a sequined, star dress to one of its premieres, and whether she was trying to make a galactic pun or simply be super on trend, she was right on the mark. Star-printed clothing and accessories are huge right now, and they are going to continue on to be one of 2018's biggest trends.
No matter your zodiac sign, Leos, Scorpios, and everyone in between can reach for the stars in 2018 — and I mean that literally, reach for the star-printed clothes on the racks next time you go shopping. From dresses to loungewear, and every accessory you can think of, the stars are aligning to spruce up your closet. Would you like a preview of what your wardrobe will soon like? My crystal ball shows me many stellar outfits are in your future.
By The Way Starla Sequin Dress
$98, Revolve
It's not to late to snag 2018's trend for your 2017 New Year's Eve dress!
Old Navy Sueded D'Orsay Pumps in Gold Star
$27, Old Navy
These pumps have me starry-eyed and starry-footed.
Old Navy Sueded D'Orsay Flats in Gold Stars
$24, Old Navy
A flat version of the shoe is also available if that's more your thang.
Ettika Hematite Star Choker
$21, Saks Fifth Avenue
Trends on trends on trends with this star-studded choker.
J.Crew One-Shoulder Top in Kaleidoscope Star Print
$55, J.Crew
Hearts, stars, and rainbows! Actually, just stars, but they're in a rainbow of colors on this one-shoulder top and it's giving me heart eyes.
Zara Mid Rise Jeans With Stars
$30, Zara
Zara, love of my life, I can always count on you for the best trends.
MICHAEL Michael Kors Plus Shooting Stars Foil Print Bell Sleeve Tunic
$59, Dillards
This bell-sleeved top is out of this world fab.
Mango Star Print Scarf
$26, Mango
Wrap yourself up in this cosmic scarf to keep warm from the atmospheric elements.
Tabbisocks Clear Star Socks
$22, tabbisocks
Let your socks peek out above your booties (or wear them with heels!) to show off your cosmic style.
Lulus Galactic Goddess Black Star Print Sleeveless Maxi Dress
$71, Lulus
Max out on the galactic trend with this maxi dress.
Studio 33 Star Denim Wristlet
$75, Bloomingdale's
Carry the galaxy in your hand with this rhinestoned denim purse.
Boohoo Alice Star Print Sweat & Jogger Set
$23, Boohoo
Pull an all-nighter Netflix and chill session with your girls in this comfy set.
Rip Curl Rising Star One-Piece
$40, Ripcurl
Take this one-piece swimsuit on your much-needed mid-winter vacation.
New Look Star Thong Flat Sandal
$20, ASOS
Another vacation essential, or an everyday sandal if you live closer to the equator than I do.
Style & Co Plus Size Sequined Plaid Flannel Shirt
$45, Macys
Even flannel is getting the star treatment!
$27, Missselfridge
Your office wardrobe just got an astronomically chic upgrade.
Madewell Star Statement Earrings
$34, Madewell
Make sure to update your phone so you can 'gram this with the new starry-eyed emoji.
Nasty Gal On Another Planet Star Bootie
$31, Nasty Gal
Not all that glitters is gold, some of it's pink, and star-printed.
H&M Lace Skirt
$40, H&M
For a non-metallic, cosmic look, this skirt is still on trend AF. The cosmos are telling me to buy it with the matching shirt (Lace Top with Flounces; $30).
See all you stellar ladies in your celestial outfits in 2018!