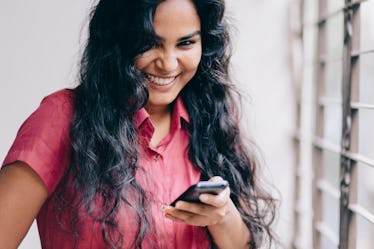 The 11 Best Instagram Comments To Leave For Your Crush & Rack Up The Likes
If you've been eying a cutie for a while, interacting with their Instagram can be a tactful way to drop a little hint. (The hint being that you want to rent a fancy Airbnb with them and listen to Clairo as you eat pesto pasta and make out in a hammock. Just me?) Well, whatever the heck it is you're looking for, flirting on social media can provide a happy medium before full-on texting a potential boo. So, knowing the best comments to leave on Instagram for your crush can really come in handy.
Of course, before you make your move, it can be helpful to think about the types of interactions you're looking for. If you are trying to move the conversation from the comments section to a date downtown, the best comments to leave may be the ones that welcome a response, like asking a question or suggesting a new coffee place. If your crush lives far away or you're just trying to gas them up on their lunch break, leaving a cute emoji or complimenting their outfit can get their attention, too.
Here are *the* best 11 comments to leave on your crush's Instagram.