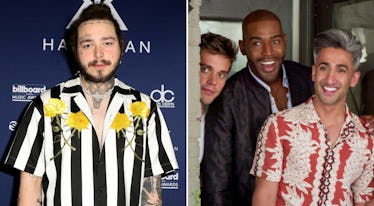 Post Malone Might Actually Appear On 'Queer Eye' After His Twitter Exchange With Karamo
Roger Kisby/Getty Images, Netflix
Last week, everyone on Twitter was joking about how Post Malone should be a guest on Queer Eye, and through the power of social media, that might actually happen now. Both the rapper and the Queer Eye stars are saying that they would be down to make a Post Malone Queer Eye episode happen, so get on it, Netflix!
The whole thing began when Queer Eye's culture guru Karamo Brown noticed fans constantly requesting Post Malone be made over on the show on Twitter earlier this month. Karamo wondered if the rapper had requested to be on the show, but Post Malone hilariously responded that the commenters "just think [he's] ugly and smell." Karamo responded that he is a fan of Post Malone's style as it is, and castmate Jonathan Van Ness echoed Karamo's statement, saying that he loves Post Malone's unique style and pointing out that the rapper never asked for a makeover, which is key.
It seemed like that was the end of that, but now it seems like the Post Malone/Queer Eye thing is picking up some steam. Over the weekend, a TMZ photographer asked Post Malone if he would appear on Queer Eye, and he gave an enthusiastic response:
Yeah, hell yeah. I'll do the show, I love the show.
Post Malone even pitched some makeover ideas for his potential Queer Eye episode, saying he would want to look like "a nice, '60s, Austin Powers gentleman."
OK, so Post Malone is in, now what about the Queer Eye guys? Well, Jonathan Van Ness appeared on the Facebook Live show PROFILE by Buzzfeed News shortly after Post Malone's TMZ story broke, and the hairstylist said that as long as Post Malone is open to doing the show, then he is all for it:
He said he was game? OK, fine, then I'm down for it.
So, it sounds like everyone involved is ready for this to happen, and obviously there is a ton of fan interest in getting Queer Eye its first celebrity guest. It seems like this Post Malone Queer Eye episode is actually a major possibility!
Post Malone's potential episode will have to wait for another season, though, because the Fab Five have already been filming the third season of their show in Kansas City, Missouri. They began production over a month ago in mid-June, and the new season is set to premiere on Netflix sometime in 2019. Season 3 will mark the first time that the Fab Five (Antoni Porowski, Tan France, Karamo Brown, Bobby Berk, and Jonathan Van Ness) have ventured outside of the Atlanta, Georgia area for their makeovers, since the first two seasons were filmed back-to-back there.
With Season 3 already in the works, maybe we could see some sort of Queer Eye: Celebrity Edition for Season 4? The series and its stars have become beloved by several celebrity fans (Justin Theroux, Pete Davidson, and Mandy Moore, just to name a few), so the Fab Five should have no trouble filling out a roster of interested celebrities. And of course, we know that Post Malone is game!