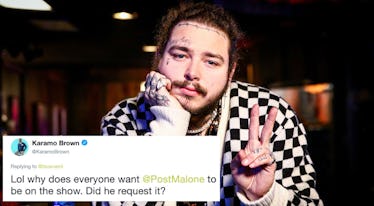 'Queer Eye' Fans Want Post Malone On The Show & His Response Is Epic
Rich Fury/Getty Images
I would watch the hell out of Queer Eye: Celebrity Edition if that ever became a reality (are you listening, Netflix?), and one celebrity has already found himself as one of the most fan-nominated makeover subjects. Queer Eye's culture guru Karamo Brown wondered why fans of the show kept requesting that rapper Post Malone make an appearance, and Post Malone's response to Karamo's Queer Eye question is easily one of the most hilarious celebrity Twitter interactions of the year.
After a fan on Twitter suggested that the Queer Eye Fab Five get Post Malone on their show, Karamo Brown responded by asking why he has been hearing Post Malone's name so much from fans suggesting him for the show. It sounds like Karamo was not familiar with the social media trend in which users will accuse Post Malone of being dirty or smelly, because his first assumption was that perhaps the rapper had requested to be on the show. But of course, Post Malone is clued in on what his haters are constantly saying about him, and he filled Karamo in on what was really going on with the shady requests. Post Malone mustered all the self-awareness he could and let Karamo know that everyone asking for him to be on Queer Eye is just saying he's ugly and smelly:
Honestly, this response is equal parts hilarious and kind of sad to me. Clearly, Post Malone has heard all of the mean things that people on Twitter have been saying about his appearance, and that deluge of criticism and insults based on physical appearance is really never OK. But on the bright side, Post Malone has also seemed to learn how to laugh the insults off... and we also found out that he is one of the many Queer Eye fans!
Karamo Brown responded by saying that he is actually a fan of Post Malone's style as it is, so I guess we will not be seeing the rapper on the celebrity edition of Queer Eye that has already been greenlit by Netflix in my dreams.
The Queer Eye team is currently in makeover mode filming their third season in Kansas City, Missouri. The upcoming season will mark the first run of episodes that are not set in the Atlanta, Georgia area. Season 1 and 2 of the rebooted series were filmed back to back in small towns near the southern city's capital, consisting of eight episodes each.
The Fab Five (Antoni Porowski, Tan France, Karamo Brown, Bobby Berk, and Jonathan Van Ness) have been filming in Kansas City for a little over a month now. The third season of Queer Eye is confirmed to premiere on Netflix in 2019, although a specific air date has not yet been announced. Netflix has also not yet revealed the episode count for Season 3 — the first two seasons consisted of eight episodes each, but fans are hoping that may get bumped up since this is the first new season the Queer Eye team is filming since the show skyrocketed to success.
Look for Season 3 of Queer Eye to drop on Netflix in 2019... without Post Malone as a guest star.