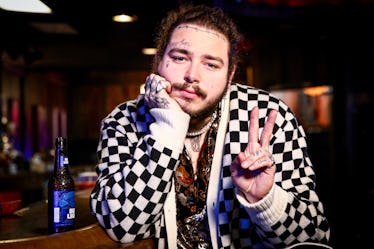 Post Malone's Real Name Is Actually Super Simple & You'd Never Guess It
Rich Fury/Getty Images Entertainment/Getty Images
Post Malone is most definitely a name you know. The rapper, singer, and record producer has been dropping music since 2015 and enjoying collaborations with superstars like Justin Bieber. But how much do you really know about him? In so many ways, the genre-crossing artist is a complete enigma. He is young, multi-talented, and seemingly came out of nowhere. Even his stage name evokes a bit of mystery. Like, what does Post Malone mean, anyway? More importantly, what's Post Malone's real name? Glad you asked because the answer is a really simple one.
Post Malone, 22, was born Austin Richard Post. Pretty standard name, right? And hey, now you know where "Post" came from.
What about Malone, though? Where in the world did that came from? Post Malone's stage name actually has a pretty interesting origin story.
He explained the process of choosing his name on Martha & Snoop back in 2017:
Well, Post is my last name. I was 14 and I ran my name, Austin Post, through a rap generator, a rap name generator. And that's what it came out with.
Martha Stewart pressed him for more answers, as any curious mind would. "So, where does Malone come from," she asked.
"It just came out of the rap name generator and I stuck with it!" Malone answered.
That's actually kind of cute. And who hasn't used a rap name generator at one point or another? Funny that Post Malone stuck with his, though!
Before stepping into his Post Malone identity, the multi-talented artist got his start in Syracuse, New York where he was born and raised by his disc jockey father. Having a DJ dad meant that Malone was introduced to wide variety of music.
In a 2015 interview with Hot 97, Malone talked about his musical influences and how much a role his dad played in his musical identity:
My dad was always playing music. Not like playing music, but listening to music. And he put me on everything ... Folk and funk and rap. I moved to Dallas and I started making music. So, that's really it. And from then on I just started making what I like. Playing guitar, and writing my own songs, and just making music.
When Malone was 9, the family packed up and moved to Texas, where he delved deeper into music. He even learned to play guitar with Guitar Hero, at his father's urging.
In an interview with Syracuse.com, the rapper's father, Rich Post, talked about pushing his son to learn to play:
I told him if he stuck with it for 6 months, I'd get him guitar lessons. Six months later he said, 'Nope, I developed my own style.'
Strangely enough, that sounds exactly like something the Post Malone of today would say. It's like he knows no boundaries, musical or otherwise. And frankly, he truly does have a style all his own!
And, lucky for him, everything he touches seems to turn to gold.
The rapper released his first album Stoney in 2016. His second album, Beerpongs & Bentleys, was released in late April 2018. In the days following its release, the album was certified platinum and was streamed over 47 million times, clearing a path toward making history. The album is set to take the top spot on the Billboard 200.
For a guy who's only released two albums thus far, Post Malone is really make a name for himself. Good thing he stuck with his rap generated name over something else. Somehow, Austin Post just doesn't have quite the ring that Post Malone does.