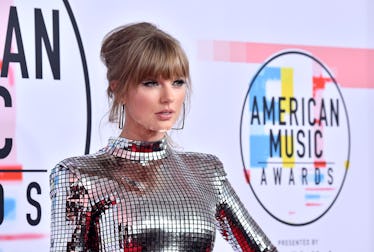 Taylor Swift Doubled Down On Her Political Instagram With An Important Message
Frazer Harrison/Getty Images Entertainment/Getty Images
The midterm elections are mere weeks away, which means it's almost your time to shine and let your voice be heard. There's, of course, a lot at stake for the future of American politics in the upcoming race, which seems to be why Taylor Swift broke her career-long silence on politics a couple of weeks back to urge her fans to get to the polls. She hasn't stopped with the political statements since, and Taylor Swift's Instagram about early voting is one of her most important posts yet.
Further encouraging her followers to hit the voting booths, Swift took to Instagram on Oct. 17 with a message pointing out the option of early voting, advising her fans on what she said she wished she knew when she "was 18 and voting for the first time." She also shared an important message for Tennessee voters, telling them that early voting starts "TODAY" — meaning, get out there and get to the polls! Clearly, she's not messing around here.
Here's what she wrote:
Something I wish I knew about when I was 18 and voting for the first time: ✨EARLY VOTING✨. It makes it so quick and easy to go and cast your vote before November 6. Early voting starts TODAY in Tennessee and goes to Nov 1 You can check out your state's early voting dates at the link in my bio
If that's not enough to motivate you to head to the polls, maybe the picture of her red, white, and blue pedicure will:
While Tennessee residents can head to the polls starting today, it's worth noting that early voting isn't available in every state. Per the National Conference of State Legislatures (NCSL), 37 states allow early voting, but you should check the guidelines for your state, as they may vary. If you already know that it's an option in your community, Swift shared a link for fans to check the exact early voting dates in her Instagram bio.
The post is just one of few political declarations Swift has made since breaking her silence on the subject on Sunday, Oct. 7. That evening, the "Look What You Made Me Do" singer shared a message on her Instagram endorsing Democratic candidates Rep. Jim Cooper, who's running for re-election to the House, and Phil Bredesen, who's running in Tennessee's race for U.S. Senate. The message read:
I'm writing this post about the upcoming midterm elections on November 6th, in which I'll be voting in the state of Tennessee. In the past I've been reluctant to publicly voice my political opinions, but due to several events in my life and in the world in the past two years, I feel very differently about that now. I always have and always will cast my vote based on which candidate will protect and fight for the human rights I believe we all deserve in this country. I believe in the fight for LGBTQ rights, and that any form of discrimination based on sexual orientation or gender is WRONG. I believe that the systemic racism we still see in this country towards people of color is terrifying, sickening and prevalent.
She continued on, saying that she could not support Bredesen's Republican opponent, Marsha Blackburn. "As much as I have in the past and would like to continue voting for women in office, I cannot support Marsha Blackburn. Her voting record in Congress appalls and terrifies me," she wrote. She cited, particularly, Blackburn's record on issues like her vote against reauthorizing the Violence Against Women Act (VAWA) and her record on LGBTQ+ rights. Elite Daily reached out to representatives of Blackburn and Swift for comment at the time, but did not hear back. Swift ended the post by begging her fans to educate themselves on the candidates running in their communities before voting on Nov. 6.
Swift doubled down on her efforts to motivate voters at the American Music Awards on Oct. 10 while accepting her award for Artist of the Year. "This award and every single award given out tonight were voted on by the people," she explained of the honor. "And you know what else is voted on by the people is the midterm elections on Nov. 6. Get out and vote. I love you guys."
Back at you, Taylor. I could really get used to this political streak. See you at the polls!