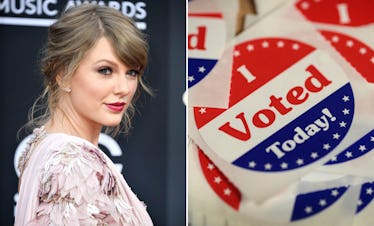 Taylor Swift's Instagram Endorsing A Democrat Had A Major Effect On Voter Registrations
Frazer Harrison/Getty Images Entertainment/Getty Images & Scott Olson/Getty Images News/Getty Images
Never underestimate the power of Taylor Swift. The Reputation singer has notoriously remained mum on her political beliefs, often causing a divide and tension between her music fans. Well, no more. Swift just made her political stance very loud and clear and the result is awesome, TBH. Thanks to Taylor Swift's Instagram endorsing a Democrat, voter registration saw an "unprecedented" uptick in just a short 24-hour period. No matter which side of the aisle you're on, we all can agree: More voter registrations is a good thing.
Back when President Trump was running for president, and then when he was elected, many fans looked to Swift to say something. Anything. Her silence on the controversial election caused some folks to turn their backs on her, saying that as a woman and young person's advocate her non-stance was ultimately telling of where her true values lied — presumably in keeping her fanbase happy rather than risk upsetting any of them. However, those days of walking the political tight-rope are long behind her.
On the night of Sunday, Oct. 7, Swift shared a message on her Instagram account accompanied by a black-and-white photo of herself. It started: "I'm writing this post about the upcoming midterm elections on November 6th, in which I'll be voting in the state of Tennessee. In the past I've been reluctant to publicly voice my political opinions, but due to several events in my life and in the world in the past two years, I feel very differently about that now."
Swift went on to outline her beliefs in great detail, stating,
I always have and always will cast my vote based on which candidate will protect and fight for the human rights I believe we all deserve in this country. I believe in the fight for LGBTQ rights, and that any form of discrimination based on sexual orientation or gender is WRONG. I believe that the systemic racism we still see in this country towards people of color is terrifying, sickening and prevalent. I cannot vote for someone who will not be willing to fight for dignity for ALL Americans, no matter their skin color, gender or who they love.
From there, Swift listed specifics about the Tennessee candidates, specifically making mention of candidate Marsha Blackburn, whom she vehemently disagrees with.
Swift even announced who she will be voting for.
Running for Senate in the state of Tennessee is a woman named Marsha Blackburn. As much as I have in the past and would like to continue voting for women in office, I cannot support Marsha Blackburn. Her voting record in Congress appalls and terrifies me. She voted against equal pay for women. She voted against the Reauthorization of the Violence Against Women Act, which attempts to protect women from domestic violence, stalking, and date rape. She believes businesses have a right to refuse service to gay couples. She also believes they should not have the right to marry. These are not MY Tennessee values. I will be voting for Phil Bredesen for Senate and Jim Cooper for House of Representatives.
Swift ended with a plea encouraging all of her fans and followers to educate themselves in their local communities and vote!
"Please, please educate yourself on the candidates running in your state and vote based on who most closely represents your values," she said. "For a lot of us, we may never find a candidate or party with whom we agree 100% on every issue, but we have to vote anyway. So many intelligent, thoughtful, self-possessed people have turned 18 in the past two years and now have the right and privilege to make their vote count. But first you need to register, which is quick and easy to do. October 9th is the LAST DAY to register to vote in the state of TN. Go to vote.org and you can find all the info. Happy Voting! 🗳😃🌈"
Swifties are paying attention, Y'all.
Some politicians tried to dismiss Swift's post, like the former governor of Arkansas Mike Huckabee, who tweeted, "So @taylorswift13 has every right to be political but it won't impact election unless we allow 13 yr old girls to vote. Still with #MarshaBlackburn."
But he's clearly wrong.
Director of communications for Vote.org, Kamari Guthrie, told Buzzfeed News that she saw an "unprecedented" number of new voter registrations following Swift's gram. "We are up to 65,000 registrations in a single 24-hour period since T. Swift's post," Guthrie said.
Guthrie went on to explain that September reeled in 190,178 new voters across the board, which is much better than August who only saw 56,669. Specifically, Swift's home state Tennessee grew in October substantially when compared to September and August. Tennessee claimed 5,183 new registrants in the first two weeks of October, whereas September only saw 2,811, and August slunk in with 951 new voters for the whole month.
Thanks, Tay.
President Donald Trump caught wind of Swift's post and told reporters Blackburn is "doing a good job." He added, "I'm sure Taylor Swift doesn't know anything about her. Let's say that I like Taylor's music about 25 percent less now."
In contrast, Tennessee candidate Phil Bredeson publicly thanked her on Twitter for her endorsement.
Hot tip from me to you: Make voting day a special day. Treat yourself to some delicious coffee and an awesome breakfast pastry, then put on your favorite shades and get out to your polls, guys! Bring your friends! Bring your mom! Tell everyone!
To find everything you need to vote in your state for the upcoming midterm elections, visit Vote.org.